Details

Published on May 23, 2014 @ 04:25 am
Written by Cecily
With E3 a mere 3 weeks away, it's finally time for the news flow to step up and deliver. After the latest feature in Weekly Shonen Jump, fans began bouncing off the walls in undiluted excitement, trying to predict what would come next. However, what did come next was hardly what anyone had forseen, and that was a voice actor confirmation.
Gilbert Gottfried, well known for his stand-up performance as Iago the parrot from Disney's Aladdin, just revealed via Twitter that he is recording lines for the loud-mouthed parrot for another Kingdom Hearts title!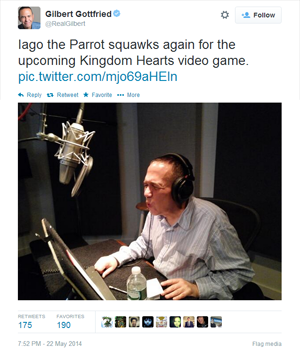 Kingdom Hearts HD 2.5 ReMix is slated to release worldwide sometime this year, there is no doubt that he is referring to this long-awaited remaster.
What new lines do you think he could be recording? How far along could they be until the game's release? And when do you suppose it even will release? Tell us your thoughts in our forums!
Source: Gilbert Gottfried's Twitter