Details

Published on July 18, 2017 @ 03:33 pm
Written by Cecily
Famitsu had the opportunity to interview Tetsuya Nomura at D23 Expo and asked about the newly revealed Toy Story world, battle systems, and general story. The complete issue will be released at a later date, but leaks have surfaced via Hachima.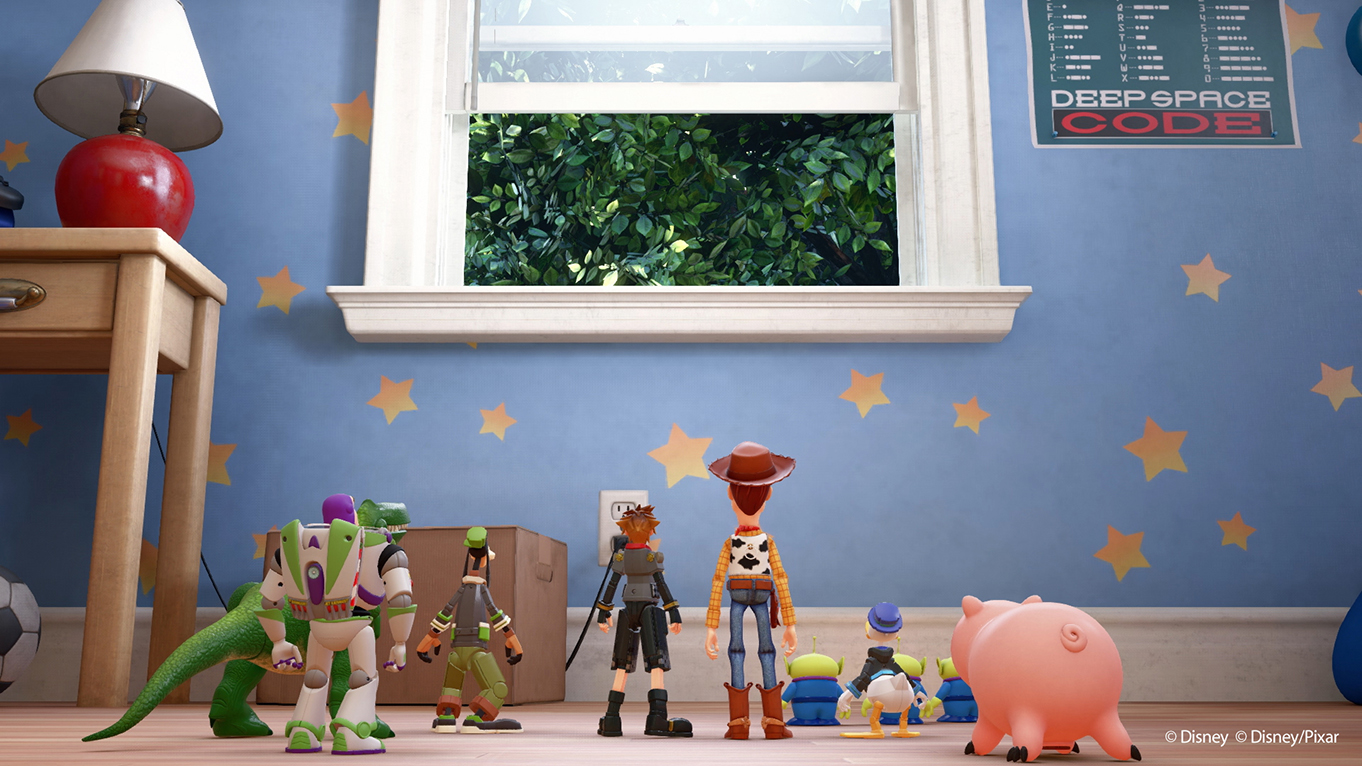 Thanks to Saken, translations are available below:
Regarding specifics about when exactly in 2018 KH3 will release, Nomura would like fans to be patient for future news.
Regarding the phrase that appeared in both the D23 and orchestra trailers, Nomura added it into each trailer after editing had already finished. He wanted it to specifically end in the words "dive in", so as to return to the original concept of the Kingdom Hearts series.
On Toy Story and Big Hero 6:
Nomura has wanted to add in a Toy Story world from as early as the development of KH2, so he feels tremendous emotion toward it.
This time, like they had done in KH1, there have been loads of negotiations between all related parties to create worlds. When Chief creative officer of Pixar, John Lasseter came to Japan and Nomura met with him, John would often voice his opinion on things he wanted Nomura to add in.
The Toy Story world will not just rip off a small part of the original story in Toy Story, instead it will take place in a time after the end of the 2nd film, and all events that occur will exist on that same time line.
It's not in the trailer, but there are times where Rex mistakes Sora for a toy of a game character that's up for sale in the Toy Story world.
Regarding designs for Sora, Donald and Goofy, much back and forth action between the art directors and Pixar took place. Initially, the designs were much closer to that of action figures, but after much consultation, they became as they are. Pixar wanted the designs to fit closely in line with the Toy Story world, and so both parties worked together to reach a satisfactory conclusion.
Nomura comments that even Pixar staff themselves were surprised at how close the graphic quality is to their original work.
Every world has their own look and feel, so it's almost like designing a whole new game with each world. Nomura comments that it's tough work. The Toy Story world has been in a pretty showable state from a while back, however due to different ideas and advertising plans, Nomura left it under the wraps.
Nomura wanted to show a bit of Big Hero 6 in video form this time, however was not able to. Last time, he could only show one piece of art because it was an urgent and sudden request. This time, however, he couldn't because Big Hero 6 was one of the later worlds that had been decided to be included, so showing it off will have to wait a little longer.
On the Battle System:
Regarding the battle system, having many commands appear on the screen at once was something Nomura had always wanted to do for this system. Constantly having choices, and having the selectivity to assemble different combinations creates a very fun and tactical environment.
It can look a little difficult at first, but Nomura wants fans to rest assured that even randomly selecting options can create some very flashy combinations.
Depending on a Keyblade's characteristics, they will be able to transform into several different forms. The feel of each will differ according to the world they were obtained in, but they can be used freely in any other world also.
The Keyblade transformation ideas are all from the staff, and there's ones that go even crazier than the drill transformation.
The shield transformation from the Hercules world has become the "Guard Form". Above becoming a powerful counter to gigantic enemies, it can also release brutal finishing attacks.
There are strengths and weaknesses to each Keyblade, but this is necessary to maintain balance.
When the required conditions have been satisfied, combination attacks with party members will be possible by a button press. Combinations with unique characters from respective worlds will also be possible. Regarding the organisation of parties, there's a new system in place which will be introduced at a later date.
Being able to jump into and control the robots in the Toy Story world was something the team had wanted to do from very early on, however there will also be other gimmicks.
In the Toy Story world, the Toy Shop will be an important area, where you will be able to enjoy various other gimmicks by interacting with the toys that are available for sale.
On the scenario:
Even in following announcements, Nomura thinks fans will be surprised at the quality of content.
The world in which younger versions of Eraqus and Xehanort have been seen to be playing chess in is actually a new world.
In regards to the amount of worlds in KH3, it will be a little less than KH2, however the content available to play in each will be a lot richer.
Story wise, there are a plenitude of characters, so the story will also be rich. Nomura comments that he can't have everyone meet together and throw one liners at each other.
Nomura comments that the problems that each character has shouldered must also be settled. This also includes the members of the former Organisation XIII.
Nomura has finished writing the scenario about the 5th leader of the new unions in Union Cross. Plans to release in early August. (Apparently a cute scenario/design?)
There will be another short break from KH3 news. In future announcements, Nomura intends to move forward with more specific details on systems like the battle and level up systems.