Details

Published on December 24, 2009 @ 03:44 pm
Written by Raz
---Seems like the start of the Mobile site service is quickly approaching.
Nomura: Indeed. It's being gone over daily to make sure there are no bugs in it. The avatars are even more interesting than you could imagine. In the promotional video, if Sora is Sora, and Riku is Riku, they could rearrange their appearances so one avatar has the head of Sora and the body of Riku, and vice versa. Actually, every part will be able to be customized freely. The impression in the trailer we wanted to display is that te feature is packed with a wide variety of contents.
---Do you have your own avatar?
Nomura: Would you like to see it?
---Of course!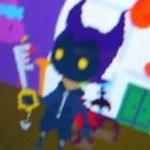 ---It's cute with a devilish nature. (Laughs) So can you play with it?
Nomura: I made a new type of heartless. (Laughs) There is a demo with playable mini games in the mobile corner, please stop by there if you get the chance.
©2016 KHInsider. KINGDOM HEARTS official artwork, trailers, characters, merchandise, and music is copyrighted to Square Enix and Disney.
Original material is licensed under a Creative Commons License permitting non-commercial sharing with attribution.
Please read our privacy policy for more information | Legal Information