Details

Published on April 20, 2018 @ 09:34 pm
Written by Cecily
On today's Square Enix Mobile stream, the staff shared slide images from the Designer and Developer panels. These slides depict various design documents for characters, maps, cutscenes and animation, as well as the transcript of the Q&A segment.
Designer Panel
Tatsuya Kando (Art Director): After receiving a request for a Sephiroth medal, designers will test the model in a variety of poses and submit for feedback. If necessary, they will revise. Once it has been approved they will apply the image to the medal border and add effects to finish. The first slide shows one of the rejected poses for Sephiroth [EX+].
Mayumi Okamoto (NPC and Character Designer): Using the style of Kingdom Hearts Mobile as a base, they played around with the character's proportions, testing poses and movement, refining, and finally arriving at the player avatar we have now.
Miki Yamashita (Character & Avatar Designer): They created many designs based on the description received from Nomura: a dandelion, based after a flower, color is orange and she is very quiet and reserved.
Sometimes there is one design that they try to adhere to, sometimes they have various types that are proposed and narrowed down.
Sara Shimokobe (Heartless Designer): After a rare Heartless is requested, the designer will brainstorm what design such a Heartless would have. The word "rare" invites ideas like treasure or rainbows, so that is used as the base. Sometimes they will create new Heartless and repurpose old animations for them, such as the Shadow Witch using the Flower Rider's animations.
The Mean Maiden was inspired by Lady Tremaine and her two daughters, so they referenced scenes from Cinderella to match the design and behavior. Likewise with the Weapon Master and Gilgamesh from Final Fantasy.
Designs for upcoming Ramuh and Shiva Heartless were shown alongside the recently introduced Titan.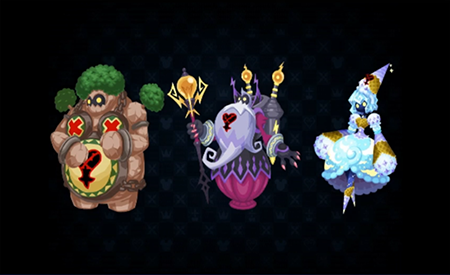 Thank You artwork from the Heartless designer, Sara Shimokobe.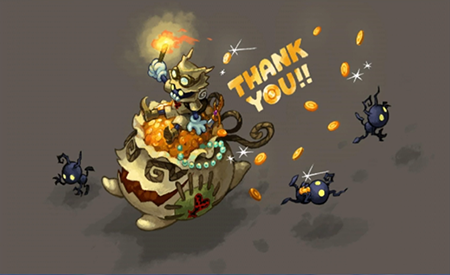 Daigo Tsukada (KHUX and KH3 Designer): Because of the stylised cute aesthetics, they tried to give them more cute and comedic behaviour. For the main title, because of the unique illustrative style, you can distinguish who the designer behind that artwork is. For the backgrounds of Keyblade decks, he first designed them with the concept of stained glass, but Nomura later suggested carousels to coincide with the medals's movement.
Aki Igarashi (Background Designer): Using Maleficent's castle as an example, designers use the film to make sure where buildings are positioned, paying attention if important scenes will be located there as well as other narrative elements, and reference screenshots to recreate the area. She takes consideration of where the player will go, what perspective there will be, and how to condense the area to being playable.
Megumi Yamamoto (Cutscene Designer): They are sometimes unable to recreate the original film entirely due to the addition of the player character so sometimes it is a bit challenging. Animation and film references for Prince Phillip and Samson are shown off. They wanted to depict nervous tension and a sense of speed but because of camera work you can't really see it too much.
Fan Q&A
Q: What types of designs did you go through for Starlight? Are there other original designs in the works?

A: With Union X, because you are collecting lux, the motif of the star is very important so we based Starlight on that.
Q: Have you considered making medals with CGI effects?
A: The idea of adding animation to different medals was brought up, talked about with the development team. It is not really easy and it is a tough hurdle to overcome.
Q: Why can't girls wear more pants? Why can't boys wear dresses?
A: When we design avatar parts, we think about men and women and we do come across that restriction. It has been noted and designed for gender neutral avatar parts. We can't promise anything but will discuss it with the team.
Q: Was there any point in the game that differs from concepts and what stories are there, if so?
A: With Union X being a mobile game, when we transitioned from PC browser to mobile we changed cards to medals.
Q: Were there any challenges in development?
A: Art director has to wrangle the team and keep everyone in check. We use delicious snacks and goodies to share as motivation. Another thing is when designing medals, because of different characters, e.g. Kingdom Hearts 1, there was so much reference data to sift through which provided to be a challenge. For character medals, with Princes and Princess, if they are really good looking it is tough to make sure they stay in character and are represented correctly. Coming up with new material for new designs is challenging as there are new designs each month, especially with seasonal events like Christmas where you don't want to repeat designs.
Developer Panel
Tetsuya Nomura, Tatsuya Kando, and Hironori Okayama are on the panel.
The LCD games are collectively called Classic Kingdom. Concept art of the mini-games are being shown off. Musical Farmer, Barnyard Battle, Giantland, and Carnival Kid are all games you can play in Kingdom Hearts 3, which have been built in Unreal Engine 4. Sora will be adventuring through the game and they'll become available throughout the game.
The mini-games were revealed at this event because you can play Classic Kingdom in Union X! They are unable to give a date for when the games will be live in Union X, but they say it will be live before Kingdom Hearts 3 launches.
Player versus Player mode for Union X was shown off. It features 1 on 1 gameplay, asynchronous battles, three Keyblade setups, infinite HP and you will battle for total damage. This mode will take place in Olympus Coliseum. The gameplay features a 3 turn battle with 3 sets. First to win two out of three times wins.
When choosing your opponents, three will be randomly selected. One will be stronger, another weaker, and the last one will be equal. The goal is to fight your way up the ranks. The battle will immediately begin after choosing the opponents and you can choose to fight manually or use the Auto mode. It is akin to a data battle as it is not a live battle like in Union Cross and points are collected just like in a High Score Challenge. After each round, Keyblades swap out to the next setup and the battle begins again. Buffs and debuffs will carry over from round to round.
Once you engage in battle, for your set you get to attack first, then the opponent gets to attack first in the second set, then switch again for the third. Player versus Player will launch soon!
Medals will soon be able to be upgraded to 7-stars, and you can view their design below. All medals can be evolved, but it will require specific synthesis materials that can be acquired acquired via farming, PVP mode and the Coliseum. No dates were given for when to expect these medals in Global.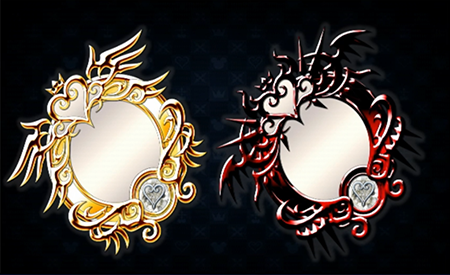 Fan Q&A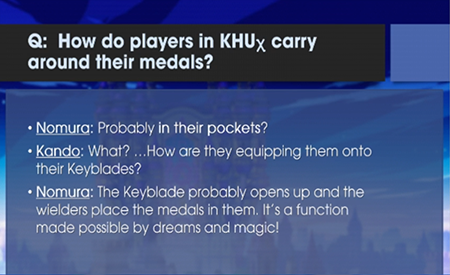 Q: How do players in KHUX carry around their medals?

Nomura: Probably in their pockets?

Kando: What? ...How are they equipping them onto their Keyblades?

Nomura: The Keyblade probably opens up and the wielders place the medals in them. It's a function made possible by dreams and magic!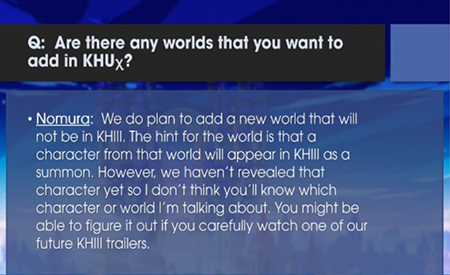 Q: Are there any worlds that you want to add in KHUX?

Nomura: We do plan to add a new world that will not be in KHIII. The hint for the world is that a character from that world will appear in KHIII as a summon. However, we haven't revealed that character yet so I don't think you'll know which character or world I'm talking about. You might be able to figure it out if you carefully watch one of our future KHIII trailers.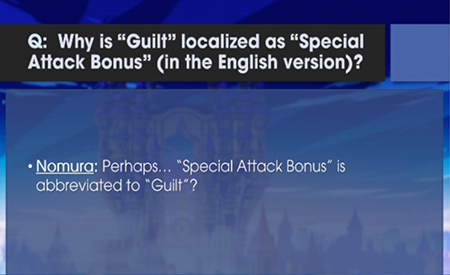 Q: Why is "Guit" localized as "Special Attack Bonus" (in the English version)?

Nomura: Perhaps... "Special Attack Bonus" is abbreviated to "Guilt"?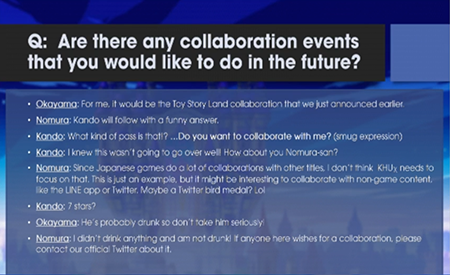 Q: Are there any collaboration events that you would like to do in the future?

Okayama: For me, it would be the Toy Story Land collaboration that we just anounced earlier.

Nomura: Kando will follow with a funny answer.

Kando: What kind of pass is that!? ...Do you want to collaborate with me? (smug expression)

Kando: I knew this wasn't going to go over well! How about you, Nomura-san?

Nomura: Since Japanese games do a lot of collaborations with other titles, I don't think KHUX needs to foc us on that. This is just an example, but it might be interesting to collaborate with non-game content, like the LINE app or Twitter. Maybe a Twitter bird medal? Lol

Kando: 7 stars?

Okayama: He's probably drunk so don't take him seriously!

Nomura: I didn't drink anything and am not drunk! If anyone here wishes for a collaboration, please contact our official Twitter about it.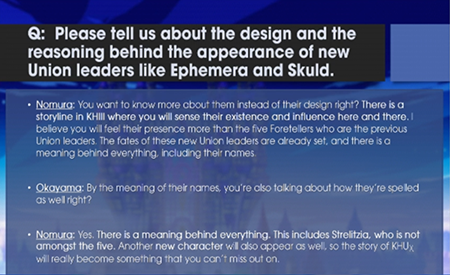 Q: Please tell us about the design and the reasoning behind the appearance of new Union leaders like Ephemera and Skuld.

Nomura: You want to know more about them instead of their design, right? There is a storyline in KHIII where you will sense their existence and influence here and there. I believe you will feel their presence more than the five Foretellers who are the previous Union leaders. The fates of these new Union leaders are already set, and there is a meaning behind everything, including their names.

Okayama: By the meanings of their names, you're also talking about how they're spelled as well, right?

Nomura: Yes. There is a meaning behind everything. This includes Strelitzia, who is not amongst the five. Another new character will also appear as well, so the story of KHUX will really become something that you can't miss out on.