Details

Published on October 6, 2008 @ 05:03 pm
Written by bittermeat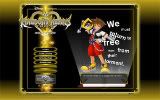 Here is a translated version of the Official Kingdom Hearts Coded Site and the Official KH Mobile Portal Site built by Square-Enix. I didn't include the downloads section because it's rather self explanatory. Please do not repost without crediting to Kingdom Hearts Insider.
The most important detail to notice is that Coded will be distributed from the Mobile Portal Site, as has been mentioned before, in episodes. Considering Mobile is currently a Japan only feature, the chances of Coded becoming available overseas seems slim. We'll keep you updated and watch for us over the next week as news from Tokyo Game Show 2008 pours in!
KINGDOM HEARTS CODED OFFICIAL SITE
STORY
There were 2 notebooks left recording their trips.
The first should have recorded a journey twice,
But instead there remained one line...
"Thank Namine."
No, this line... For it to be recorded,
This duty must have been carried out...
*
Jiminy has returned to Disney Castle
While sorting through the travel records, his eyes stopped upon a single page
A mysterious message was written there
(Page 1)
"We must return to free them from their torment."
However, no matter how he tried,
He could not remember the meaning of it.
Therefore he went to the King to discuss it.
(Page 2)
"Trouble remembering that sentence...
"There is only one person who is qualified to solve this mystery!"
(Page 3)
So the King turns Jiminy's Journal into data,
and the investigation begins
In the world traced by Jiminy's Journal A sleepy boy wakes up on Destiny Islands
This is how Sora's adventure into a digital world begins...
(Page 4)
CHARACTERS
SORA
In order to solve the mysterious message left in Jiminy's Journal, Sora is the main character active in the data world. He is even transformed into data himself.
INFORMATION
| | |
| --- | --- |
| Title Name | Kingdom Hearts coded |
| Platform | NTT docomo FOMA, Model TBA |
| Genre | RPG |
| Release Date & Price | TBA |
| CERO Examination | Examination Scheduled |
| Copyright | ©Disney. Developed by SQUARE ENIX |
KINGDOM HEARTS MOBILE PORTAL SITE
The smallest Kingdom Hearts.
A gathering of everything Kingdom Hearts
In a few days the mobile portal site will open.
In the "Avatar Kingdom", one can obtain avatar items,
Enjoy coordinating them in your own unique way!
Among the town shops, of course there are item shops for avatars.
Enjoy your free time at the game shop, invite your friends,
You can even participate in special events, it's fully loaded with fun things!
Obtain expecting mail and decorated mail features from the art gallery
And ringtones from the melody shop are being prepared!
Also, the distribution of Kingdom Hearts Coded is planned from here!
Kingdom Hearts Mobile (Portal Site)

NTT docomo FOMA 703i, 903i Planned for this model and everyone after.

This Fall

TBA

©Disney. Developed by SQUARE ENIX ©SQUARE ENIX CO., LTD. All Rights Reserved.
Discuss it in the KH Insider Forums!
Comments Below!
©2016 KHInsider. KINGDOM HEARTS official artwork, trailers, characters, merchandise, and music is copyrighted to Square Enix and Disney.
Original material is licensed under a Creative Commons License permitting non-commercial sharing with attribution.
Please read our privacy policy for more information | Legal Information