Details

Published on July 15, 2010 @ 10:15 am
Written by Sol
Hello, guys.
Many, many thanks go to forum member Dawninmyheart today who has kindly scanned in PlayStation's article on the gameplay of Kingdom Hearts Birth by Sleep from the August 2010 edition!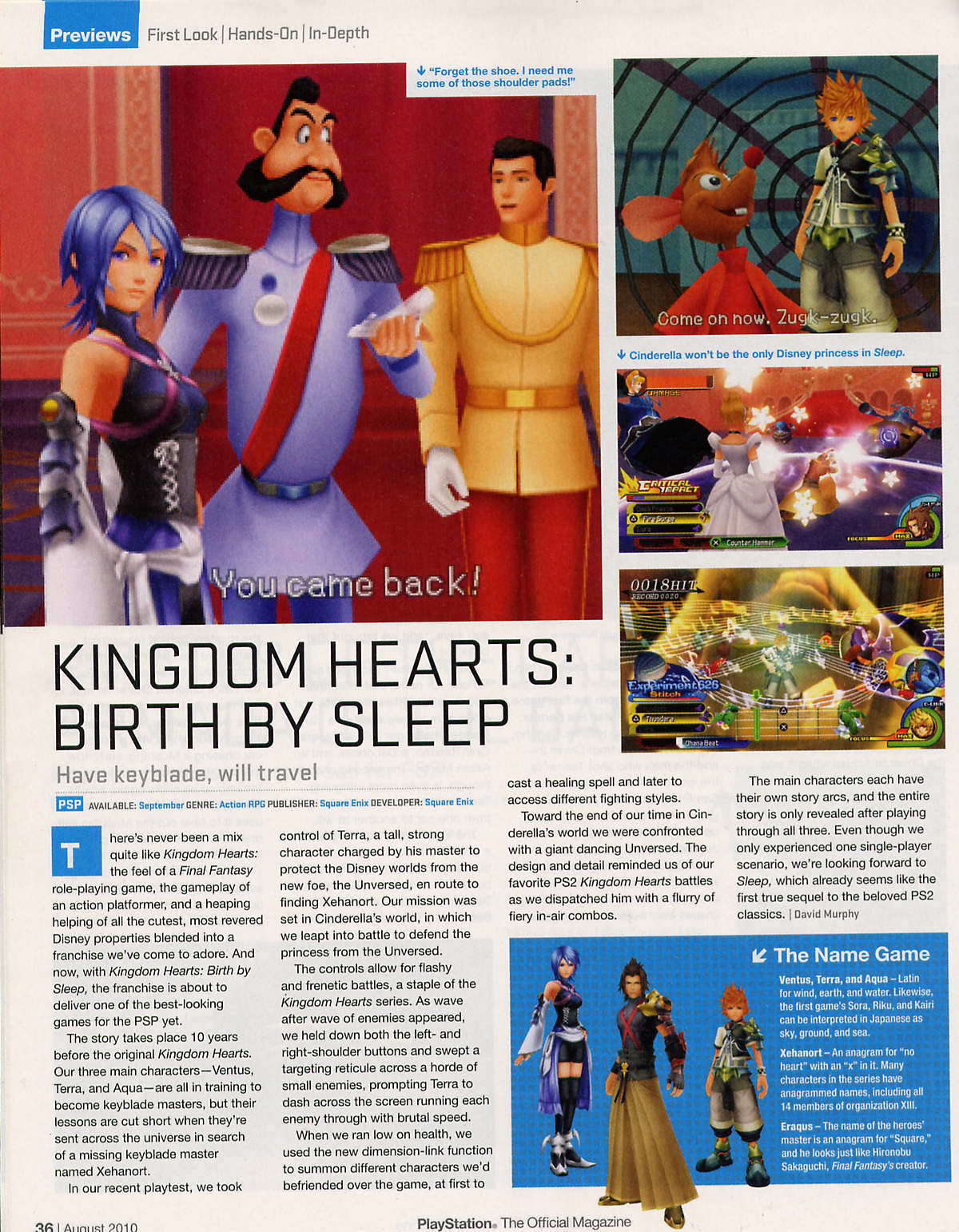 Dawninmyheart has also kindly summarised the basic content of the article, which I will post below:
♥ A summary of Birth by Sleep's plot, but I'm sure you already have it memorized word-for-word by now.

♥ A sneak-peak at the whole Terra experience in terms of gameplay and (just a bit of) story. Apparently, there's going to be a moment in time when you are expected to protect Cinderella from Unversed. This seems rather reminiscent of Sora protecting Queen Minnie from Heartless in KH II.

♥ Is it just me or is the screenshot on the top right-hand corner a never-before-seen one? And maybe even the one below it...?

♥ On the bottom right-hand corner, you'll find an inside look into the meaning behind most of the game's main characters' names and appearance. I must say, I didn't know about the last two until I read this.
Well, this sure is exciting and we here at KHInsider can just tell Birth by Sleep is going to be a big hit when it finally reaches American shores on September 7 and European waters on September 10! To find out more, visit our lively forums!
Catch ya later!
©2016 KHInsider. KINGDOM HEARTS official artwork, trailers, characters, merchandise, and music is copyrighted to Square Enix and Disney.
Original material is licensed under a Creative Commons License permitting non-commercial sharing with attribution.
Please read our privacy policy for more information | Legal Information