★ More Proud Mode Quests Added!
We are happy to announce that Proud Mode Quests up to Quest 200 are now available as of Apr. 20, 2017 at 12:00 a.m. (PT) / 7:00 (UTC)!
Test your might against these challenging quests for Electrum Ore, Magic Mirror Medals and more!
---
■About Proud Mode
・Proud Mode is a mode that allows you to re-challenge the Main Story quests at a higher difficulty with special rules.
・By clearing Proud Mode quests you can obtain new Keyblades as well as rare rewards such as materials to level up the new Keyblades, Magic Mirror Medals to raise your Special Attack Bonus by 1%, and more!
■Regarding the Special Rules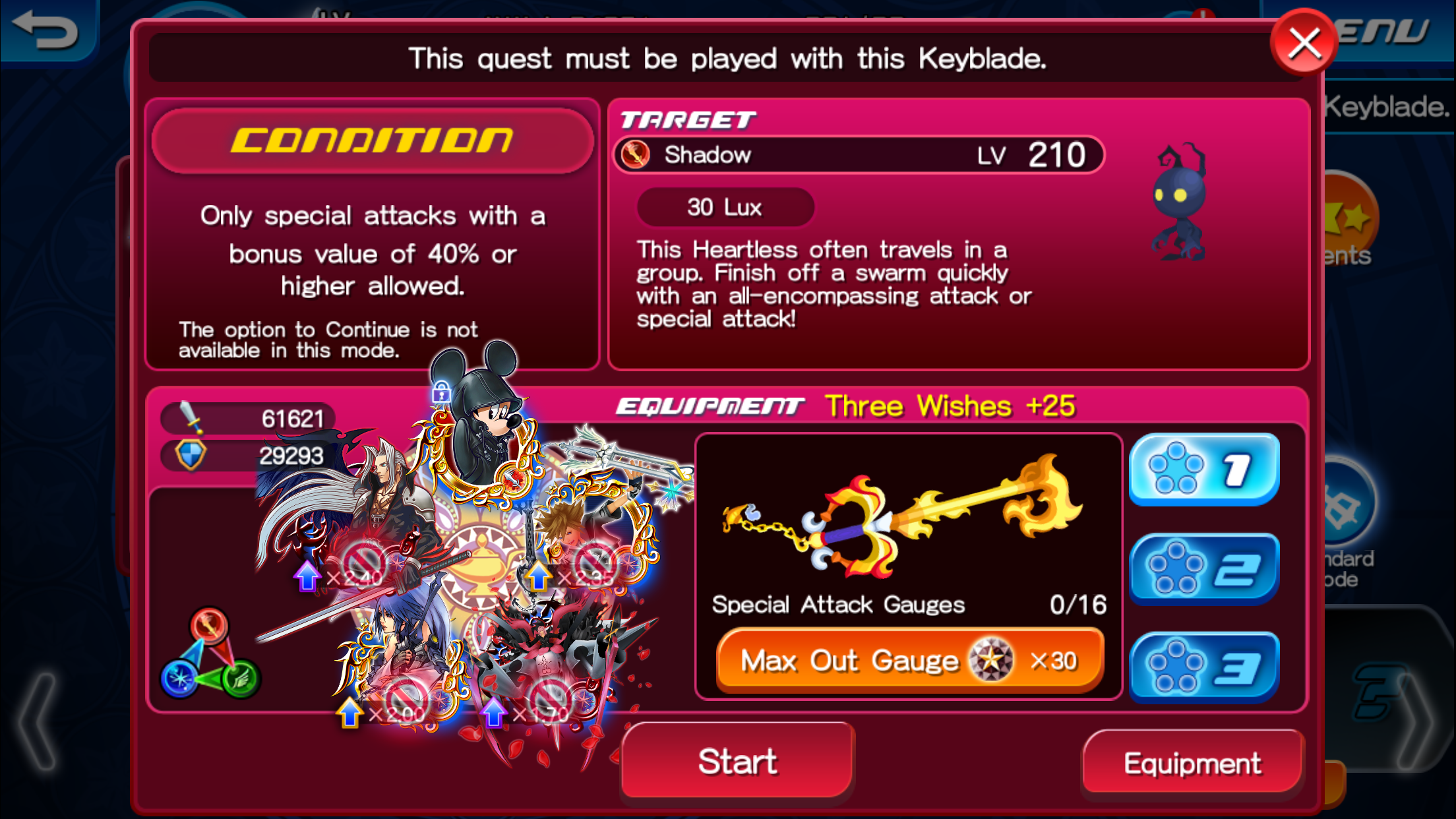 ・The Keyblades you can use are fixed for each quest.
・There are limits for each quest regarding which Medal's abilities you can use.
 【Examples】
    Only special attacks with a bonus value of 40% or higher allowed.
    Special attacks allowed only for Upright Medals.
・You cannot continue in battle.
・You cannot use Friend Medals.
---
Daily Cid Quests Unlocked Permanently!
● Daily Cid Quests Unlocked for EVERYONE...FOREVER!

Previously revealed in one of our Union χ[Cross] pre-registration emails, we are happy to announce to everyone that the
Daily Cid Medal Challenge
quests will be unlocked
permanently
for all players from today (Apr. 20) onward!
Complete these quests to earn up to three 6★ Cid Medals every day!
Now that the cost of 6★ Medals can be reduced by 20 instead of just 10, you'll want to keep at these quests!
---
Past Avatar Boards Return!
★ Celebrate our 1st Year with an Encore of Past Avatar Boards!
・For four weeks from today until May 3, 2017, we will be bringing back a total of eight avatar boards from the past for a limited time!
 (Each week will feature two sets of avatar boards.)
・Best of all, these avatar boards will be available for only 1500 Jewels apiece!
NOTE: If you had previously purchased these boards, you will not be able to purchase them again.
[Week 3]
Apr. 20, 2017 12:00 a.m. to Apr. 26, 2017 11:59 p.m. (PT)
Apr. 20, 2017 7:00 to Apr. 27, 2017 6:59 (UTC)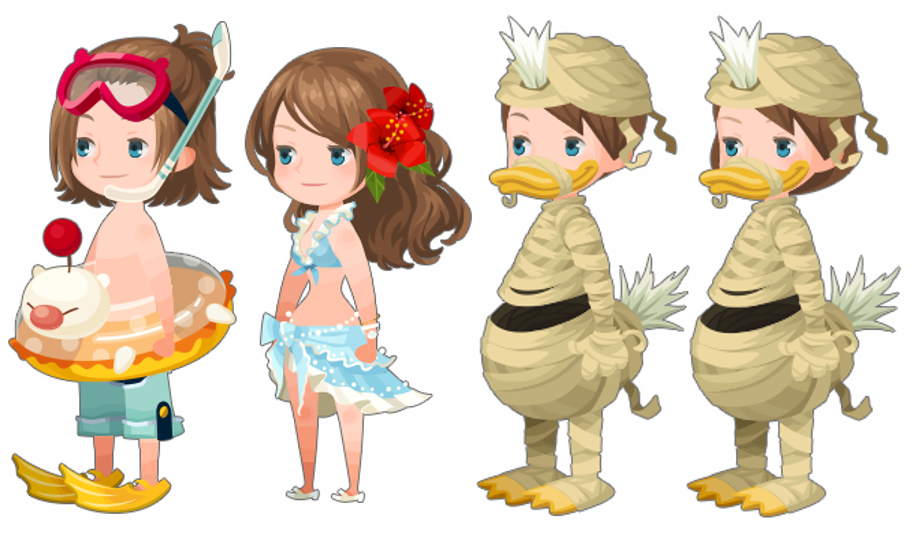 Beach Casual (Male)
Sun-Kissed Summer (Female)
Halloween Donald (Male)
Halloween Donald (Female)
Beach Casual (Male)
Sun-Kissed Summer (Female)
Beach Casual
Snorkel (Skill Perk +3)


Half Ponytail




Lux Plus x 1

(5★ Scrooge)


Attack Boost II x 1

(5★ Scrooge)


Defense Boost II x 1

(5★ Scrooge)
5★ Illustrated Cid x 4
6★ Huey & Dewey & Louie x 3
6★ Cid 5 x 1
6★ Cid x 1
6★ Chip x 2
6★ Dale x 2


Title:

Extremely
Sun-Kissed Summer
Hibiscus Hair Ornament (Skill Perk +3)
Summer Trinket
Long & Wavy


Lux Plus x 1

(5★ Scrooge)


Attack Prize Plus x 1

(5★ Scrooge)


Attack Boost II x 1

(5★ Scrooge)
5★ Illustrated Cid x 4
6★ Huey & Dewey & Louie x 3
6★ Cid 5 x 1
6★ Chip x 2
6★ Dale x 2


Title:

Smitten
Halloween Donald (Male)
Halloween Donald (Female)
Halloween Donald
Halloween Donald: Hat (Skill Perk +6)


Halloween Donald: Bill

(Skill Perk +6)


Attack Prize Plus x 1

(6★ Scrooge)


Attack Boost II x 1

(5★ Scrooge)
5★ Halloween Donald x 4
6★ Magic Mirror x 1
6★ Huey & Dewey & Louie x 3
6★ Cid 5 x 1
6★ Cid x 1
6★ Chip x 2
6★ Dale x 2


Title:

Nightmare
Halloween Donald
Halloween Donald: Hat (Skill Perk +6)


Halloween Donald: Bill

(Skill Perk +6)


Attack Prize Plus x 1

(6★ Scrooge)


Attack Boost II x 1

(5★ Scrooge)
5★ Halloween Donald x 4
6★ Magic Mirror x 1
6★ Huey & Dewey & Louie x 3
6★ Cid 5 x 1
6★ Cid x 1
6★ Chip x 2
6★ Dale x 2


Title:

Trick Or
Category

[Week 3]

Avatar Part Name
Perk
Value
Head A
Snorkel
Skill Perk
+3
Hibiscus Hair Ornament
Head A
Halloween Donald: Hat (Male)
Skill Perk
+6
Halloween Donald: Hat (Female)
Face B
Halloween Donald: Bill (Male)
Skill Perk
+6
Halloween Donald: Bill (Female)


---
Follow us on Twitter for the latest news! @Daybreak_Town