Details

Published on August 30, 2019 @ 04:56 pm
Written by Cecily
Kingdom Hearts fans are no stranger to the the Ultimanias - Square Enix's signature line of guidebooks. While they contain an absolute wealth of walkthroughs and statistics, they are most well known for the exclusive staff interviews and concept art.
With the Xehanort Saga having finally concluded, it seems like the perfect opportunity to revisit the Ultimanias to explore old interviews and the like that may not be very well known. Starting off with a collection of artist comments found in the galleries, they provide insight on the design process and share early ideas that were scrapped or have since been repurposed for other games.
Huge thanks to goldpanner for her hard work in translating! If you'd like to say thanks, please consider buying her a coffee!
Weapon Designs (Tetsuya Nomura, Director)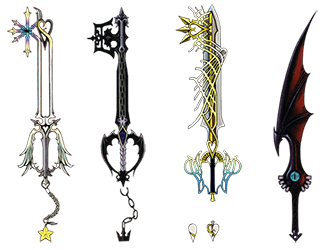 Oathkeeper: If you look at this Keyblade on its side, it forms the Japanese character for "Light". In the early stages we called it the "Kairi Keyblade," and I was envisioning giving it a paopu fruit keychain. It's my personal favorite Keyblade.

Oblivion: Its development name was the "Riku Keyblade." In early stages we planned to have Riku give you a keychain, just like the lucky charm, which is why the keychain is a different colored version of Sora's necklace. If you look at this Keyblade on its side, it forms the Japanese character for "Darkness".

Ultima Weapon: It is based on the Dream Sword, which appears at the beginning when you select a weapon. It has a fairly complex structure, and I won't deny that I went overboard, but I believe this design has impact.

Soul Eater: This isn't a Keyblade, but it is a sword that Riku uses in the first half [of the game]. I wanted to make a sword without a blade, and this is what came out after a lot of sketches. Like on the box art, I thought it was nice how it looks like a wing when he carries it on his back. Well, not that he carries it on his back in the game.
Weapon Designs (Takayuki Ohdachi, Art Director)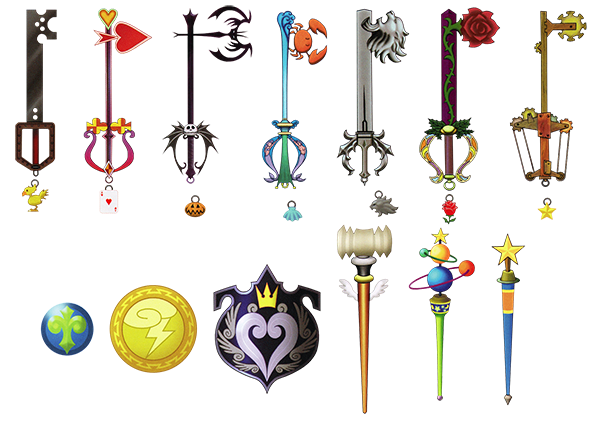 Metal Chocobo: As this is what you get from defeating Cloud, it's similar to his Buster Sword weapon from his original game, with an overall crude feel. The keychain is a chocobo because of Cloud's "chocobo head" nickname?

Lady Luck: A colorful design based on playing cards. It's perfect for the world where you get it, Wonderland.

Pumpkinhead: I reproduced the creepy spiked look particular to Halloween Town. Jack is on the hilt, and the keychain is a pumpkin.

Crabclaw: Since you get this from Ariel, a mermaid who lives in a kingdom under the sea, it is overflowing with an ocean vibe. The tip is a crab, the hilt has mermaids, and the keychain is a shell.

Lionheart: As this is a weapon you get from defeating Squall, it has the same name as his ultimate weapon from FFVIII. The silver tone brings to mind Squall's aesthetic. The tip and the keychain are designed after the Griever, which holds great meaning in the original game.

Divine Rose: The design is based on the rose that plays an important part in the original movie Beauty and the Beast, and the stained glass you see at the beginning and end.

Wishing Star: This design is bursting with the aesthetic of Gepetto's house, where you find it, with crafted mechanisms.

Smasher: Very small and simple. A protective design with an emphasis on attack.

Herc's Shield: Basically we turned the lightning medallion Hercules has had since he was born into a shield.

Save the King: A shield featuring designs based on wings and a heart-like shape. Just as the name suggests, the center features a crown mark.

Grand Mallet: This staff has an emphasis on attack, but it looks like an inflatable toy mallet which is adorable.

Lord Fortune: The tip is designed after the Milky Way, with lots of planet-like spheres attached.

Morning Star: As the name suggests, the tip is a star. This magic staff has a simple design.
Weapon Designs (Tetsu Tsukamoto, Texture Designer)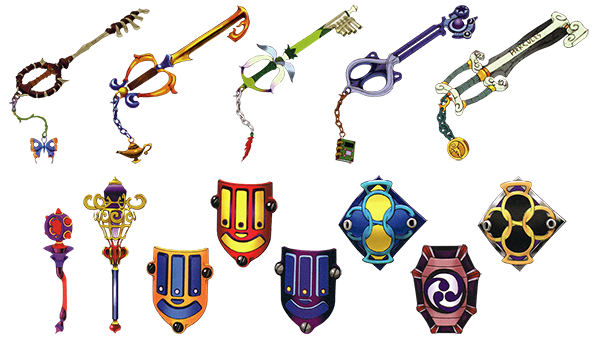 Keyblades: Jungle King, Three Wishes, Fairy Harp, Spellbinder, Olympia
Staves: Violetta, Save the Queen
Shields: Stout/Golem/Adamant, Mythril/Onyx, Genji
Character Designs (Tetsuya Nomura)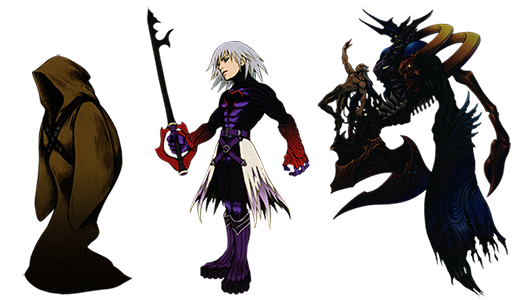 Ansem (robed): Based on the robed figures who wanted Reunion in FFVII. In early stages he also had a face, and he was going to appear wherever Sora went to leave mysterious messages. Even into later stages of development he was going to be a mysterious old man from Destiny Islands.

Riku (Ansem): This creepy costume is based on muscle and sinew. I actually was thinking of secretly making him a bit taller, but it would have caused issues with the animations so I rejected myself. There are a few things that perhaps only I know, such as how I made the tip of his Keyblade have a cut-out heart shape because it still needed Kairi's heart to be complete, and how the Heartless emblem on his chest is missing the thorny cross because Riku's heart has not yet completely fallen to darkness.

World of Chaos: One step before this final form, we had a phantom full body version prepared. Just like the last form has, we had a dedicated level completely created and everything. It was such a waste, I cut it with a heavy heart. Those kinds of cuts happen all the time when making games…
Illustrations (Tetsuya Nomura)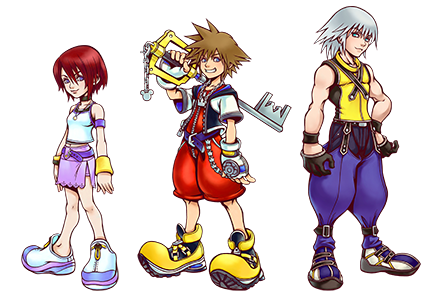 Keyblade: As a result of being asked for a necessity behind defeating enemies, the concept of "a key that frees hearts stolen by the enemies" was born. As such, the birth of the Keyblade was the foundation upon which the entire scenario of Kingdom Hearts was created.

Sora: The beginning of everything. The world of Kingdom Hearts began with this character. It was honestly such a huge honor that an extension of my own design would be joining the Disney character family, and very special feelings went into creating him - like he was the culmination of all the protagonists I'd drawn so far. In the early days I was considering a person with beast-like features including a tail, but he lost the tail due to the overlap with FFIX. His outfit also had more straight lines, which I changed to curves to match with Donald and Goofy. It was a long road to the Sora we have now. But, even so, he's still developing as a character.

Riku: His design was born from balancing with Sora. I drew him as a good old fashioned rival character, without any particular curveballs. He carries the responsibility of playing a more worried protagonist than would suit Sora. In that way, maybe he's more of a classic Square style character? The things Riku does to restore Kairi's heart are perhaps less about his feelings for her and more about his regret over sins he has committed? Or so I think. He's a surprisingly immoral guy.

Kairi: With the heroines of the other titles I've worked on so far, since I wasn't the only person in charge of the plot, I had to be more careful with them than other characters, and it was difficult to have full control - but this time I was allowed to draw exactly as I pleased. During development we floated the idea of having Kairi be playable, and I wanted to depict Kairi's personality even more eg. against Sora, against Riku, and her past. But due to circumstances we had to postpone those ideas for now. Her hair is a secret homage to Utada Hikaru, who provided the theme song.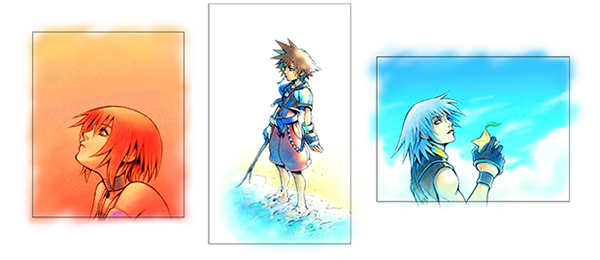 Foreshore (Sora): This was drawn especially for an advertisement, so I pounded it out in a single day. I had no idea it would end up being used so much. The highlight is the fishbone in his mouth. Honestly, I wanted to draw more pictures along these lines.

Blue Sky (Riku): I drew this at the same time as Foreshore. The idea behind this scene is him telling Sora, "You wanted one, didn't you?" In the game that happens at sunset, though.

Red Sunset (Kairi): I also drew this at the same time as Foreshore. The idea is that Kairi is lost in thought on the beach at sunset, although there isn't a scene like that in the game.

Donald & Goofy (KH version): Upon Disney's suggestion, their default outfits in the game are Kingdom Hearts original costumes. They said they wanted to see a "Nomura-style" design, so in order to have them match Sora I put zippers, which I make frequent use of, on every important spot. The base colors are the same as their standard costumes. I took care not to make them feel too different from their usual selves.

Friends: This is a publication-level redraw of a rough sketch I did to include in all kinds of presentation documents. It was popular among the KH PR team, so I finished it up so they could use it somewhere. In my heart, I made it to give to the PR team.

Piggyback: I drew this in the early stages for an image board to check the sense of balance between Sora, Donald and Goofy, and re-drew it fresh for publication. I like this one because in a single drawing you can see the sense of collaboration and the relationship between the three of them. As it was drawn so early on, Donald and Goofy are in their standard costumes. Once the new costumes were revealed, I limited their exposure. But the standard costumes escaped being shelved - they saw the light again in the ending. Did you notice? I find it interesting that one of the very first things I drew ended up becoming the final image of the game.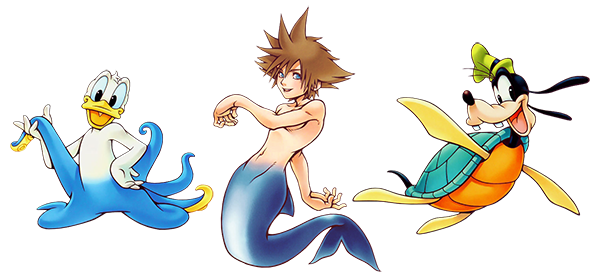 Sora (Atlantica version): I drew this for an image board in the early days, to help explain to Disney the use of each Disney world and the harmony between each world's aesthetic, which was to be the core of Kingdom Hearts. That was this merman Sora. I wanted to spend more time on the official design, but I didn't have time to indulge myself like that, so we just went with what I drew in the early days. Personally, there are lots of things I wish I could have fixed up.

Goofy (Atlantica version): I didn't draw Goofy for the board in the early days, and I stressed over what to have him turn into. I got the idea for this turtle from the supervising Disney artists, and somehow finished it without him looking too much like a seahorse. I think it's a perfect fit for the easygoing Goofy. However, I am a little bit bothered by one thing - it seems his hat didn't change…

Donald (Atlantica version): This was, like Sora, drawn for the early image board. Once the model and textures had been completed and we put it up on a screen, the tentacle suckers were a lot grosser than I had imagined and we had to keep adjusting them until we reached the current version.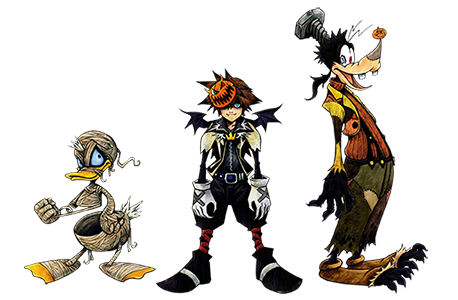 Sora (Halloween Town version): I drew the body in an energy rush and don't really remember the details, but with the face I had to do quite a lot of exploring for Tim Burton's design sense. In the end, I couldn't find a good compromise, and after much pain and suffering I landed on this design. It was surprisingly well-received, and I was relieved. The motifs behind this design are imps and vampires.

Goofy (Halloween Town version): This was the easiest of the three Nightmare versions to decide on. At first he only had Frankenstein elements, but as the design went on I decided to try adding some werewolf. This made it much more interesting, so that prompted me to give all three of them two different elements.

Donald (Halloween Town version): There was an early design that I created while taking great pains to follow Tim Burton's style, but it made me burst out laughing, as well as my staff. Disney did not give it the stamp of approval, of course, but they did give me a big laugh. They said they could see how I got to that design, but they wanted me to leave more of Donald's original parts, and somehow we ended up with the current design. I am so sorry that I cannot show you that early design. The motifs behind this design are mummies and invisible men.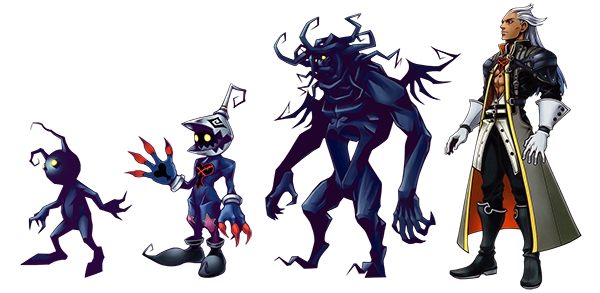 Shadow: Basically, we needed a make a Heartless that would be easy to display enmasse, so I challenged myself to see how simple I could make it. I wanted to have them become flat shadows and move around, so their design began there. Also, this became the concept for the movements of all Heartless.

Soldier: This design became the concept behind all Heartless. In the early days I was thinking of going with something a little more comical, but the story was getting more serious, so the designs changed too. I like all the Heartless designs.

Darkside: The concept behind it is a conglomeration of Shadows, an abstract symbol of the darkness of the heart, and of nightmares. In the development stage, you were able to stand inside the heart in its chest.

Ansem: I like this type of character, so I was naturally motivated. I planned to give him golden hair and pale skin, but as I looked at several color variations, I settled on the current colors, which are the exact opposite. Ansem is a man of many mysteries. This is his form after casting away his body - what is his true form…? I'll leave that for another time.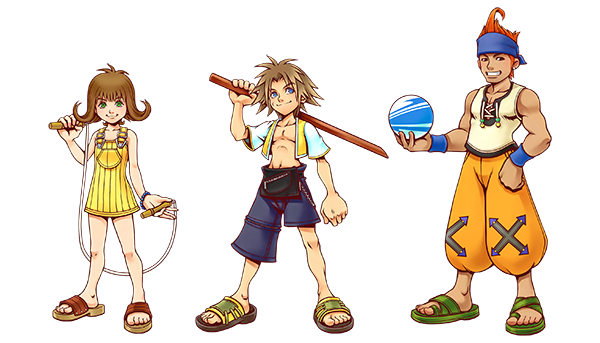 Tidus: A simpler version of his FFX design. He was the first FF character I drew, and I was relieved when he came out looking nice as a chibi like this.

Selphie: I planned to give her a different outfit from her FFVIII one, but once her model was complete and I compared them, it was basically the same. My mistake...

Wakka: I actually planned to have Irvine from FFVIII play this role, but no matter how many times I tried to draw him, I couldn't make him fit the island theme, and ended up going with Wakka instead. I drew this right before the deadline.

Leon: This is the first FF character we decided to have cameo. In the Kingdom Hearts universe, the FF characters aren't from the exact same settings, and are more like parallel universe versions. However, we put things in that people who know the original FF game will understand as they play, such as the wing designs on his back and his long hair. There are several reasons he doesn't go by the name Squall, but… that's for another time, sorry.

Cid: A refined Cid from FFVII. Did I go too far? It's a rather mismatched design, and I was sure Disney wouldn't go with something like this, but I did it anyway.

Yuffie: This has a complicated story behind it… In the early stages, I had planned for this role to be played by Rikku from FFX. However, something happened and we had to quickly shuffle Yuffie, who originally had a different role, into this one. In the end, Yuffie's original role was cut due to time constraints. Because of these circumstances, we designed her body to suit either role.

Cloud: The protagonist of FFVII, and a character I have a strong attachment to. The single wing that appears when he uses the power of darkness is a homage to his eternal rival Sephiroth. One answer for the scene during the credits with Aerith is that it is possible because this is a parallel universe, or so I think. By the way, the Kingdom Hearts versions of the FF characters are copyrighted by Square Enix. Fans, don't worry.

Aerith: At the time of FFVII, her expression wasn't the one intended. I asked them to change it to the correct one, but I was too late. This role was planned to be played by Aya from Parasite Eve until halfway through, but due to requests from staff who had worked on FFVII, Aerith was made to appear. Her story with Cloud grew from there. The developments in characters' stories sometimes do come from exchanges like this.

Moogle: I'd drawn these so many times before, but due to the extreme reduction of lines this time, I think I was finally able to draw my own ideal Moogle. I think the nose is the highlight...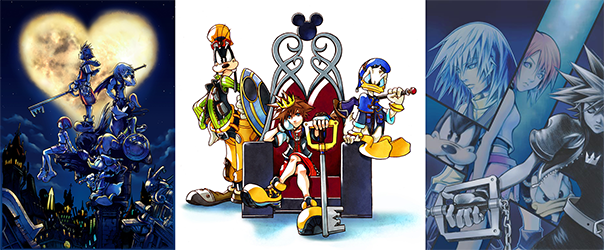 Premonition: Disney requested a key visual that could be used to represent the entire Kingdom Hearts world, and we had many huge meetings in order to decide on this one drawing. Both Disney and Square shared a vision for Kingdom Hearts, but it was an extremely tough job to represent it in one drawing. I was particularly stressed over how to represent Donald and Goofy in a serious scene. People tended to misunderstand the tone of Kingdom Hearts, and I wanted to wipe that out. After several rejected pieces, we finally arrived at this one. I think that it was the first time in a long time that I had poured so much heart and soul into an artwork.

Throne: I drew this as part of an agreement with Toshiba EMI. It overlapped with the final stage of development, and I drew this under extreme stress. Actually, this was my personal pick for the key visual, but since it was finished in a short time it was reworked. This is the first time other than the soundtrack cover art that it has been published.

Connections: This is another piece I drew under stress with no time. I'm sure you'll see it if you look, but Sora looks a bit grown up. I'd like you to imagine for yourselves what it means. I'm still daydreaming myself.
Check out all of this and more in our newly revamped Kingdom Hearts image gallery!
Follow Kingdom Hearts Insider on Facebook, Twitter, and Tumblr for the latest updates on Kingdom Hearts Union χ [Cross], Kingdom Hearts 3 and all things Kingdom Hearts!