Details

Published on April 16, 2012 @ 11:56 pm
Written by Cecily
And from out of the blue, in comes news about the elusive 4th volume of the 358/2 Days manga we both heard and probably forgotten about! SQEX_eSTORE has updated their order page with the cover of the manga, this time featuring Namine! As a reminder, the manga goes on sale on April 21, 2012 at the price of 440円 (roughly $5.46 USD)!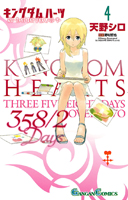 Click to enlarge!
Come and discuss the manga and new cover with us here in our forums!
©2016 KHInsider. KINGDOM HEARTS official artwork, trailers, characters, merchandise, and music is copyrighted to Square Enix and Disney.
Original material is licensed under a Creative Commons License permitting non-commercial sharing with attribution.
Please read our privacy policy for more information | Legal Information