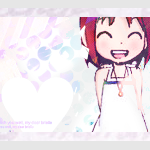 Proud Demyx/Kairi Shipper
Joined

Oct 12, 2007
Messages

4,281
Awards

1
Location
Yep, another one. I actually wrote this story months ago, but then I lost the document, so I had to rewrite it from scratch. Originally I thought it came out pretty good, but I'm not sure how I did re-writing it.
*Also, this fic can be seen as a sequel to my previous fic,
"The Paopu Festival" (link)
, but you don't have to read it to understand this story. Just know that in this universe, Kairi and Demyx did meet previously on another occasion.
Setting:
Some time in-between CoM and KH2
Pairings:
Kaimyx. What else?
But it's not full-blown romance either.
Summary:
Demyx re-enters Kairi's life in the middle of a particularly bad storm on Destiny Islands. He thinks he can easily cure her fear of thunderstorms, but perhaps some wounds take more time to heal than others.
Disclaimer: I don't own Kingdom Hearts.
"Washing Away the Memories"​
If it had been up to Kairi, she wouldn't have been in the library at all. She would've been safe at home, under the covers of her bed, perhaps with a bowl of soup to keep her warm, and listening to some soothing music on her CD player. She would certainly not want to be cowering under a table in the farthest corner of the library, trying to shut out the sounds of the thunder booming outside.
Her terror of thunderstorms was definitely not ideal, given the fact that she lived on a tropical island, nor was it something that she'd had all her life. Instead, it was a very recent development that she had succeeded in hiding from everyone except her parents. The worst part of Kairi's current situation was that she might not have been here at all if she hadn't insisted on staying behind after Tidus left. The two of them had been partnered up to work on a history project together, and Kairi had literally dragged him to the library this morning to work on the assignment. As the afternoon began to pass, he had to leave for blitzball practice, but Kairi decided to keep working anyway; they needed to get this done as soon as possible.
Now, she was alone, with nothing to comfort her except for the shelter of the table. Suddenly, she heard the sound of footsteps, and immediately bumped her head as she scurried back to her chair. She didn't like it when people saw how frightened she was. It made her feel like she was weak.
The footsteps grew louder, and soon Kairi realized that it was only the librarian, Mrs. Williams. She was a middle-aged woman with soft, short brown hair and equally brown eyes that shone with warmth and kindness. "Kairi, dear!" she exclaimed, "I didn't know there was still someone in the building!"
"Is the library closing?" asked Kairi, trying not to sound too frantic as the rain and thunder continued to make a racket.
"Oh no, I wouldn't leave yet if I were you," said Mrs. Williams, as if she had read the girl's mind, "The storm's too violent right now! It would probably be best if you waited here until it quiets down."
"All right," said Kairi in a small voice.
"Would you like something to eat or drink? I have hot chocolate in my office behind the check-out desk, and some fruit left over from lunch."
"Oh! You don't have to…"
"Well, of course I don't
have
to, but I'd
like
to!" said Mrs. Williams with a laugh, "Come on now, follow me!" Kairi nodded silently and managed to get her numb legs moving again. As soon as she left the safety of the table and the bookshelves, into the wide open space that was the lobby, she felt that she had made a terrible mistake: the noise from outside was now deafening! Shaking from head to foot, Kairi sank into a chair behind the desk and waited for the librarian to pour her some hot chocolate.
"Are you all right, Kairi?" asked the woman, as she stared at her with growing concern.
"Yeah, I'm fi…" But Kairi was suddenly interrupted by a new voice coming from outside.
"OHHHHHH YEAH! WAAAAAAHOOOOO!"
Kairi jumped and her mug went crashing to the floor, spilling hot chocolate everywhere! "Oh no!" cried Mrs. Williams, "I'll get that for you, dear. You just sit down."
"I'm sorry, I'm so sorry!" wailed Kairi.
"No, no, it's fine! But who on Earth was that…?"
"NOW THAT'S WHAT I'M TALKING ABOUT! WOOOOOO!"
Mrs. Williams dropped her paper towels and went over to the oak doors, muttering about lunatics. Meanwhile, Kairi drew her knees up to her chest and hugged herself tightly.
"DANCE WATER, DANCE!"
Wait a minute!
Kairi thought suddenly. That voice sounded familiar…
"Young man, what are you doing?! Get inside this instant!" the librarian was shouting over the rain and wind.
"Oh, I'm okay!" the voice shouted back, and Kairi could hear him laughing. She had finally managed to muster up some courage, and so she walked quickly toward the front door, where the librarian was standing with the door ajar. Sure enough, she knew the speaker, though she hadn't seen him in weeks.
"Demyx?" she called out, "Is that you?"
"Hey Kairi!" he shouted, waving enthusiastically. He looked like he was soaked to the skin, though
somehow
his light-brown mullet/mohawk managed to stay upward and defy gravity. He didn't look at all troubled by the raging storm; in fact, he looked quite exhilarated. "Come on out!"
"Are you crazy?!" she shrieked, "Get inside!"
"Aw, you guys are no fun!" he said with another laugh, but perhaps the warm library had looked inviting to him, because he finally came inside and immediately created a large puddle on the floor. The librarian winced as the excess water seeped through the wooden boards; then she left Demyx and Kairi alone, as she muttered something about getting a mop. Demyx grinned at Kairi and gave her a giant, wet hug.
"Ack! Get off me!" she squealed, wriggling away from his grip.
"What? Have you got something against getting a little wet? It's just water!"
"Yeah, well, I hate the rain."
"You
what?!
" Demyx's mouth dropped open in horror. "How can you hate the rain? Haven't you ever danced in it?"
"Is that what you call whatever crazy stunt you were just pulling?"
"It's
fun!
" he insisted, "C'mon, let me show you…"
"No!" Kairi's face immediately filled with terror. "I can't…I'm not going out there!"
"Why not? You have to try this!"
"Look, Demyx…DEMYX! WAIT!" Kairi shrieked as Demyx grabbed her arm and dragged her outside. The thunder roared in her ears as the rain drenched her thoroughly and lightening flashed in the sky. "No!" she screamed, as she struggled in vain to get back to the door, "Please Demyx! I want to go back inside!"
"Just relax, Kairi!" he replied in his same cheerful tone, apparently oblivious to her panic and distress, "It's not gonna hurt you! Look, I'll show you how to slide through the puddles!"
"I said
no!
" she yelled furiously, as her fear gave way to the in-born instinct to survive a dangerous situation. Her struggles grew more wild as she started kicking and punching to get away.
Finally, Demyx managed to grab a hold of her shoulders. "Okay, okay!" he said quickly, "I get it! We'll go back inside! Calm down, it's just a storm!"
That did it. When Kairi heard his words, she broke down sobbing in his arms. "Yeah, that's exactly what I thought! I told myself it was just a little storm, it wasn't going to be a problem! I'd go out to the island to get the raft somewhere safe, and then everything would be okay in the morning, and the three of us would go traveling like we'd planned. I told myself that it didn't matter if the clouds looked weird, or how dark that water looked, I didn't know it wasn't water at all! And then Riku was on the island too and he was acting weird and those
things
with the yellow eyes came after me, and then I woke up in that weird castle and Sora was fading away in front of me and Riku was telling me to run, and then they were both gone and I was alone…"
Demyx didn't know what to do; he was starting to feel a faint sense of guilt. Though he could barely understand what Kairi was saying, the description of the "things with the yellow eyes" was enough to give him a hint. Kairi's words were bringing back painful memories of his own: watching the sky grow dark on his home world as he casually played his sitar, running as fast as he could to get away from the Heartless and warn his friends about the impending danger, only to be stopped when a pair of Neoshadows ambushed him… Ever since he'd lost his heart, he had begun to forget the proper emotional response to different situations, but right now, as they shared the experience of being haunted by old memories, he decided that the best thing to do would be to keep hugging her.
Eventually, Kairi began to quiet down. "I'm sorry," said Demyx sheepishly, "I should've listened to you right from the start; I'm real stupid like that…"
"It's okay," she choked out, "Can we please go inside now?"
"Yeah, definitely."
"Are you two all right?!" exclaimed Mrs. Williams from the doorway.
"Yeah, we're good!" said Demyx quickly, as he let go of Kairi long enough to put his arm around her so that he could guide her back. She nodded to the librarian and managed to crack a smile.
"I finished cleaning up your spilt hot chocolate," said Mrs. Williams, "And I made an extra cup for your friend."
"Thanks," said Kairi.
"Hot chocolate?! Yum!" exclaimed Demyx, and Kairi giggled.
A few minutes later, Kairi was sitting on the floor next to Demyx, sipping her warm drink and listening to him play on his sitar for her. It wasn't the place where she had wanted to be on a stormy day…but somehow, she didn't mind.
~ The End ~​
Reviews and/or constructive criticism are very much appreciated!