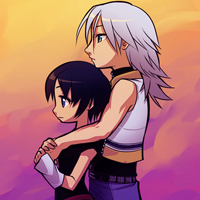 Joined

Jan 31, 2008
Messages

16,306
Awards

5
Age

37
Location
Website
Truth be told, Namine was an unexplainable plot hole. She has the best character development because Riku Replica is dead. RR was the single most developed character in the series. Even Xehanort doesn't have as much development. Mr "I get a game about my memories" isn't as developed as a character who had a bit part in a game that didn't even really matter in the first place.

Namine had enough development on her own without RR (though he himself is an awesome character too, I admit).
I did :I kind of offended you'd suggest otherwise.
And I meant more the whole AkuRoku thing rather than ruining Axel's character. The two don't have to be related though one does lead to the other.
Sora should be older and be more heroic.
Your definition for 'heroic' from what I've seen in other threads is him getting drunk with Riku and talk about the girls they got laid.