Joined

Dec 30, 2005
Messages

2,216
Awards

6
Age

32
◄
☼
►
The Axel Fanclub
◄
☼
►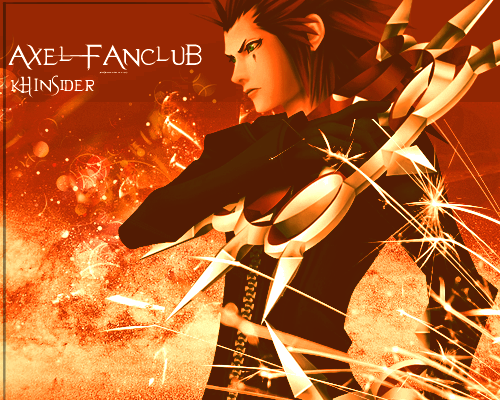 Banner and Section Titles: Reflection
.:.
OLD THREAD (The Axel Fanclub 2.0)
.:.
◄►

Axel
(アクセル, Akuseru)
Number VIII
"Flurry of Dancing Flames"
(おどる火の風, "Odoru Hi no Kaze", lit. "Wind Of Dancing Flames")
◄►
"Kioku shita ka"
• • •
"Got it memorized?"
◄►
Affiliates
~ [♥] ~ The Organization XIII Fanclub ~ [♥] ~
-*- The Axel/Larxene Fanclub -*-
~♥~ The Axel/Xion, Axel/Naminé Fanclub ~♥~
~The Akuroku Fanclub~
◄►

*TwilightNight*
◄►

Honorary 50th member
Honorary 100th member
(146 members)
*TwilightNight*|Axel_#_8|Sephy-kun|xobybr|Danica Syer
Organization_42|Solareon|Crimson|SchemerXFlames|Axel_FODF
pinkchan831|Seiramu|Ricochet!|KAIRI_SUX|Sora_Rox_My_Sox
Midnight Star|-lol-|Namimaru|Choc|madammina
Araliya|Smile|mmbiglolz|obivion keyblade|pokepotterkhkids
Strawberry|xXGrimmjowXx|cloudxxzach|Papou|AxeltheFlame
Laliani|Lestat|~~Lyric Angel~~|The Lionheart|Naryx15
Apasstrife|DJQQ|DownInFlames|impart-distart|Diasty
Secret7thNote|Sora/Riku/Kairi|HeartOfTheHero|Keeper of Memory|kandid
Rabgix|Axelfan911|King Hearts|-+zackdabomb+-|
miha
Axelfangirl101|XXXKHloverXXX|khlover7|ROXAS NOT SORA|Traskix
AngelRoxas|aqualight|xXChilly MissXx|Naximi|Teiku 5
Skye|Zexilicious|Sleeping Rebirth|aswaxsora|Xyanea
AxelRoxasFan223|Axel's_inferno|OceanLovesRoxas|thylings|nobodiesguard
Hollow Light|GotItMemorized?|deathteller|DecentPrincess|Zeagal
13courtgarud75|Reverie|Gildragon|Sea salt Aisu|miss.roxas
RoxasAi|saku1992|Axel of Ice|Xorbok|KH!
namine_ftw|Guilded.Raven|Amata|Fire's fan|starwarsgirl13
Axel'sPetPhoenix|tannia408|Voltron|*~BlackCat~*|goldpanner
tornribbon|kolaida|axelyis|CLOUD!!|
Kenpachi
ThePromise|BondOfFlame|_Sketches|Wonderglow|PowerOverNothing
NumberVIII|june|ThetaSigma|thechasersblade|huanglulu
ZEROSGEASS|MangaCrazy101|Shinra X-2|rhyth|DarkAxelNobody
Mallorytheace|Random Queen|Axel's girl1312|Xenliad|Starcrossedsky
chasespicer056|AxelYoYo|VirgilTheart|Laine|UmbraTsuki
Grimmjow6|Noxera|SoCrazyWoahYAH!|burnley95|Lelio
riku rocks|Jelai|Ryukashi1|*Rikku*|Dagey
Taocha|Key_of_Faith|NeoEevee|Xentus|oathkeeperriku09
UnKNoWn_TWiLiGhT|lalalagirl|AkuRokuSoRiku07|MegaWallflower|Mite
Raix_Feather
◄►
(reasons as to why we like him as made by our members!)
1. He's HAWT ♥. Look at that banner.
2. Quinton Flynn as a AWESOME voice actor = Axel is awesome.
3. His sarcastic attitude is hilarious when pitted against most of the other characters.
4. The fight with Marluxia was cool.
5. Pluto likes him. A lot.
6. Everyone likes him. A lot.
7. His sacrifice.
8. The unending and infamous catchphrase until our ears bleed, "Got it memorized?"
9. His friendship/bromance with Roxas.
10. His need for a Heart.
11. Based off of Reno, who is cool, like him.
12. Only member to apologize to Sora about a wrong.
13. A wild card.
14. Saves Naminé from Saïx, and bonds with her.
15. He makes an awesome nanny for Roxas and Xion.
◄►

http://jennibuns.tumblr.com/photo/1280/1155004795/1/tumblr_l7pmizU0ar1qd136i
http://30.media.tumblr.com/tumblr_l9100vE9nX1qzfnhho1_500.jpg
http://fc01.deviantart.net/fs71/i/2010/151/5/b/we_were_best_friends_by_Beast_girl07.jpg
http://i45.tinypic.com/10gelj4.jpg
http://i90.photobucket.com/albums/k265/furachan/kingdom hearts/chibiying-KH2Axeldoodle.jpg
http://i207.photobucket.com/albums/bb142/DaySummerfield/Axuseru.jpg
http://th08.deviantart.net/fs10/300W/i/2006/113/d/6/A_Hard_Day__s_Work_by_randomocity27.jpg
http://th01.deviantart.net/fs22/300W/i/2007/353/e/c/KH2___A_glass_a_day_by_Nijuuni.jpg
http://fc04.deviantart.com/fs13/f/2007/080/8/7/Axel_by_elf_art.jpg
http://fc03.deviantart.com/fs15/f/2007/091/7/4/Axel_by_VergesseneTraenen.jpg
http://fc05.deviantart.com/fs13/f/2007/100/7/8/KH2___Axel_for_Sunsu_by_lexaross.jpg
http://media-fanart.theotaku.com/517293-20090405222628.jpg
http://i72.photobucket.com/albums/i188/StarChipette/Kingdom Hearts Series/CaptainAxel.jpg
http://i72.photobucket.com/albums/i188/StarChipette/Ansem Retort/CamwhoreAxel.jpg
Axel 4 U by *larein on deviantART
KHII_Hit my heart if you can by *HakkyouHime on deviantART
http://img.photobucket.com/albums/v212/gelupeh/axel_post_top2.png
◄►

N/A
◄►
(song links are on song title)
1. Circle Of Fire - Tempo
2. Burning Bright - Shinedown
3. Jumper - Third Eye Blind
4. Why Should I Worry? - Billy Joel [Dodger]
5. Boulevard of Broken Dreams - Green Day
6. Into The Fire - Thirteen Senses
7. What I've Done - Linkin Park
8. Faint - Linkin Park
9. The Adventure - Angels & Airwaves
10. Runaway Train - Busted
11. Stop And Stare - OneRepublic
◄►
YouTube - The War is Over ~ Axel {AudioSwap}
​
Last edited: