Details

Published on February 28, 2013 @ 09:29 pm
Written by Joey
With just TWO weeks, count them, two weeks until the Japanese release of Kingdom Hearts -HD 1.5 ReMIX-, one of the more interesting topics I have seen around the forums has been about what trophies are going to be included within the game.
So I, the mysterious, wonderful and magnicient Señor Pepito, am going to tell you what I would think would make the best trophies for the game. I have selected my top 5 FAVOURITE trophy ideas from each of the games and have presented them to you below [READ MORE].
So without further adieu, sit back, relax and enjoy.
Feel free to comment below on what trophies you would like to see within the collection, and don't be afraid! Post your serious ones, your silly ones, whatever trophy ideas you can think of! I only ask of you to please make your suggestions with reasoning, as it will be counted as spam if you just write down a trophy title and nothing more. And now, back to your feature presentation!
KINGDOM HEARTS -HD FINAL MIX-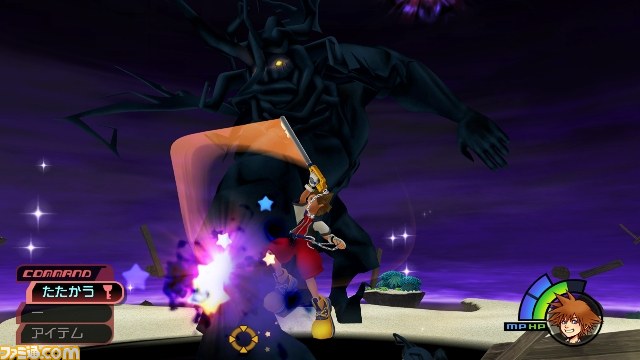 I don't know how to use this!
Weeeeeeeeeeeeeeeeeeeeeeeeeeeeeeeeeee
THIS WORLD HAS BEEN CONNECTED
It comes as no surprise that there would be a trophy unlocked after beating the Dark Side. I mean, Kingdom Hearts is a plot-driven series, so naturally it's going to have trophies relating to the story plotted through out the game. For a moment as important as this, it's incredibly important for it to be documented in the form of a trophy. I mean, it's the first time that Sora is leaving his home world, this is sending him on his journey. If this isn't one of the most important scenes within the whole series, I will eat my hat.
KEYBLADE MASTER
"Oh come on, Senor Pepito, getting every Keyblade in the game is easy!"
NO IT IS NOT LITTLE KIDS!!! NOT ONLY DO YOU HAVE TO SYNTHESISSSSSS THE ULTIMA WEAPON, BUT YOU HAVE TO BEAT FREAKING SEPHIROTH. This is a trophy that I, and you should be too, expect to see in the game. It will definately be a well earned trophy for all who call themselves Master of the Key.
ANOTHER SIDE; ANOTHER STORY
If they decide to include the original secret endings(which they should because imagine that in HD), they should make a trophy for unlocking it. Even though these trailers are 10+ years old, they do show a lot of mystery towards the next main game, and it even shows off a scene from KINGDOM HEARTS 358/2 DAYS, which is also present within the collection.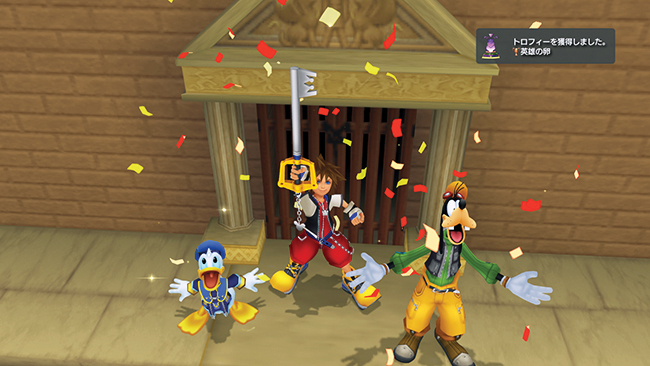 Makin' it rain
IS ANY OF THIS FOR REAL OR NOT?
Like I mentioned before, the game will have quite a few story related trophies(and I apologise for including a few of these within this article), but just think back to the first time you played the game. Sora is in Traverse Town waiting for Cid to return and you witness Sora floating through Kairi's memories. You hear the story about the children of light from Kairi's babing Grandmother. It was a powerful moment and I do think it's a moment that deserves a trophy.
YOU GUYS AIN'T HEROES
Sephiroth. The Ice Titan. Kurt Ziza. The Phantom. Xemnas. Such secret bosses are tough to beat, and beating such bosses deserve a reward. You can brag all you like to your friends ("Yo dawg, I beat da man") but in this day and age, you need proof to back this up. It's like the saying goes, a trophy a day keeps the suspicious friends away.
KINGDOM HEARTS -HD RE:CHAIN OF MEMORIES-
SIDE: SORA
THAT IS THE WAY OF CASTLE OBLIVION
It's no mystery how straightforward Re:Chain of Memories is with the plot. The basic premise of the game is you get a set of cards and shape rooms to your liking in order to proceed. For Sora to open the first world, the wonderfully nostalgic Traverse Town, it sets the tone for the rest of the game. Mystery at every corner, deception, memory loss, what is the truth and what is the lie. From here on in, Sora must rely on the power of the cards to move forward. He can trust no one. After all, that is the way of Castle Oblivion.
THUNDEROUS NIGHTMARE
I dedicate this one to my girl, my lovely lady girl, Larxene! (Though honestly, I expect there to be one after every final boss battle).
TO FIND IS TO LOSE, AND TO LOSE IS TO FIND
Unlocked after beating the Darkside on Destiny's Island. Since the original release in 2004, I have always found this line enchanting in such a mysterious way. And I thought it would be quite fitting to use here. At this point in the game(and sorry for spoilers, but come on, it's been released for 9 years), Sora has ditched Donald and Goofy. In a rageful fit of hormones and broken voice control, he had lost the two people he should trust in favour of a girl who has been manipulating him against her will. When he finally finds her, she tries to convince him that she's not the one he's looking for. It really puts this line into perspective, and I think it is very fitting for a trophy.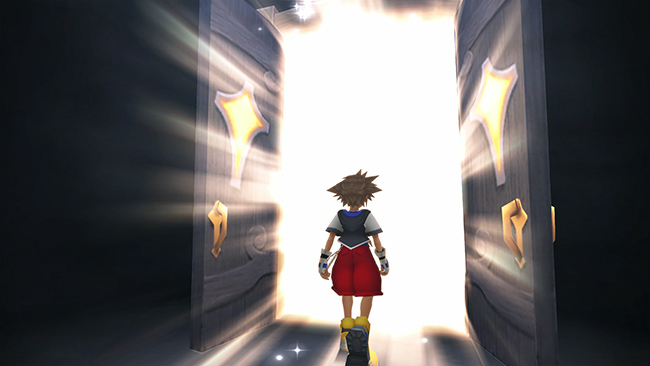 This girl is on fire!
KINGDOM KEY
Collect every card in the game. It's a hard feat right? Personally I've never done it due to never owning a Game Boy or Re:Chain of Memories never releasing in Australia, but I look forward to it, and I know that a trophy at the end is reason enough for me to try.
A RESTFUL SLEEP
Complete the game. Something as simple as that. After all Sora goes through, he deserves this sleep.
SIDE: RIKU
CASTLE OBLIVION
Starting point. The road to Riku's redemption. It all starts at Castle Oblivion and because you haven't done anything yet, it should be rewarded!
A NIGHTMARE OF ILLUSION
As much as I love Zexion(bby), like the Larxene one, there should be trophies for finishing off the final battles with the bosses.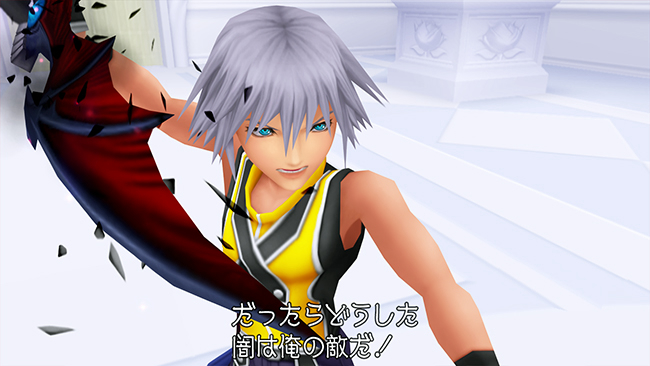 Just tell me! Tell me how to get to Sesame Street!
THE DARKNESS WITHIN
Defeating Ansem Soul of Darkness. Honestly, it's almost the same as above, just with a different boss, but my inexperience with this game makes it hard for me to think of 5 trophies to include here so cut me some slack. I was close to having a trophy about defeating 5 Darkballs.
THE DARK NIGHT RISES
Going up those 13 flights of stairs is quite an achievement. However, knowing that in reality you just finished going up 26 flights of stairs, I think they really should reward the player for going through those blinding white halls 26 times.
THE ROAD TO DAWN
Like with the "A Restful Sleep" above, this one is awarded for completing the game.
KINGDOM HEARTS -HD 358/2 DAYS-
WHO ELSE WILL I EAT ICE CREAM WITH?
You just know this will be in there. It's just like, common knowledge.
ROXAS, THAT'S A STICK
If this isn't included in the theatre, I will demand a full refund. This part was one of the highlights of the whole game. To see it skipped over would be just plain wrong.
What's this Xion?
VEN
Remember Day 353? How could you not!? It contained one of the most shocking scenes in the entire game. While on a mission, Xigbar witnessed something extraordinary. Xion transformed before his very eyes into the boy who shares a resemblence with Roxas. An important scene, which shall look beautiful in HD.
WHY DO I ALWAYS GET STUCK WITH THE ICKY JOBS?
This scene is heartbreaking. Axel had taken a shine to Xion and although he is under direct orders, he doesn't want to hurt her. This scene features an internal battle within Axel where he fights to do what is right, ultimately deciding to complete the orders of the Organization. Bad choice Axel, she'll only get out again.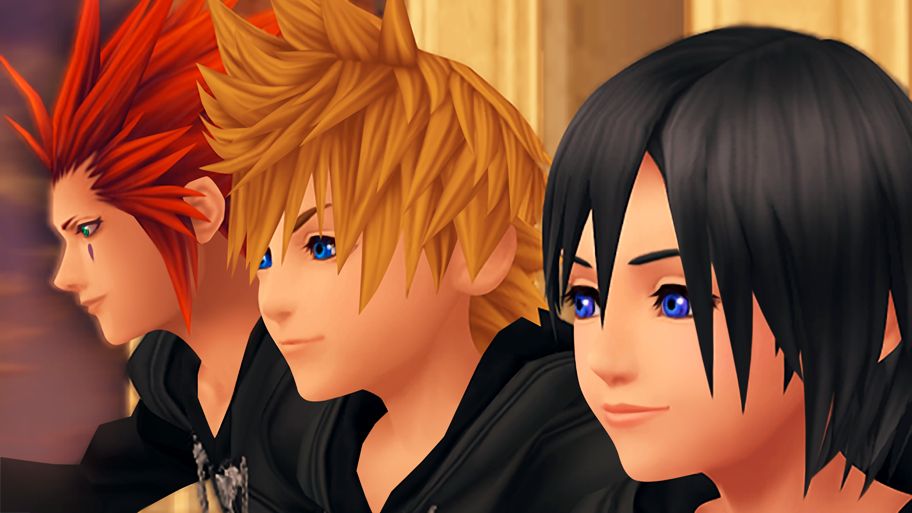 Axel, that LSD you took is really tripping you out.
SILLY WILLY TROPHY TIMES
"Senor Pepito, we're tired of reading all this? Why are you continuing on with SILLY trophies?" I hear you ask from your deep dark corner of the internet. Well the only answer I can give you is, because I demand it, that's why. These are ones I thought of while writing this that I personally think are hilarious, so if you don't laugh at these I will find you :|
A MOMENT ON THE LIPS IS A LIFETIME ON THE HIPS
Come on, you can't deny a trophy for shrinking yourself in Wonderland, and then weighing yourself in Traverse Town would not only be cute, but hilarious.
TRAITORS, TRAITORS IN THE DUNGEON
This would be a fun one to unlock when watching Lexeaus, Zexion and Vexen talking about stuff, and who doesn't love a good Harry Potter reference?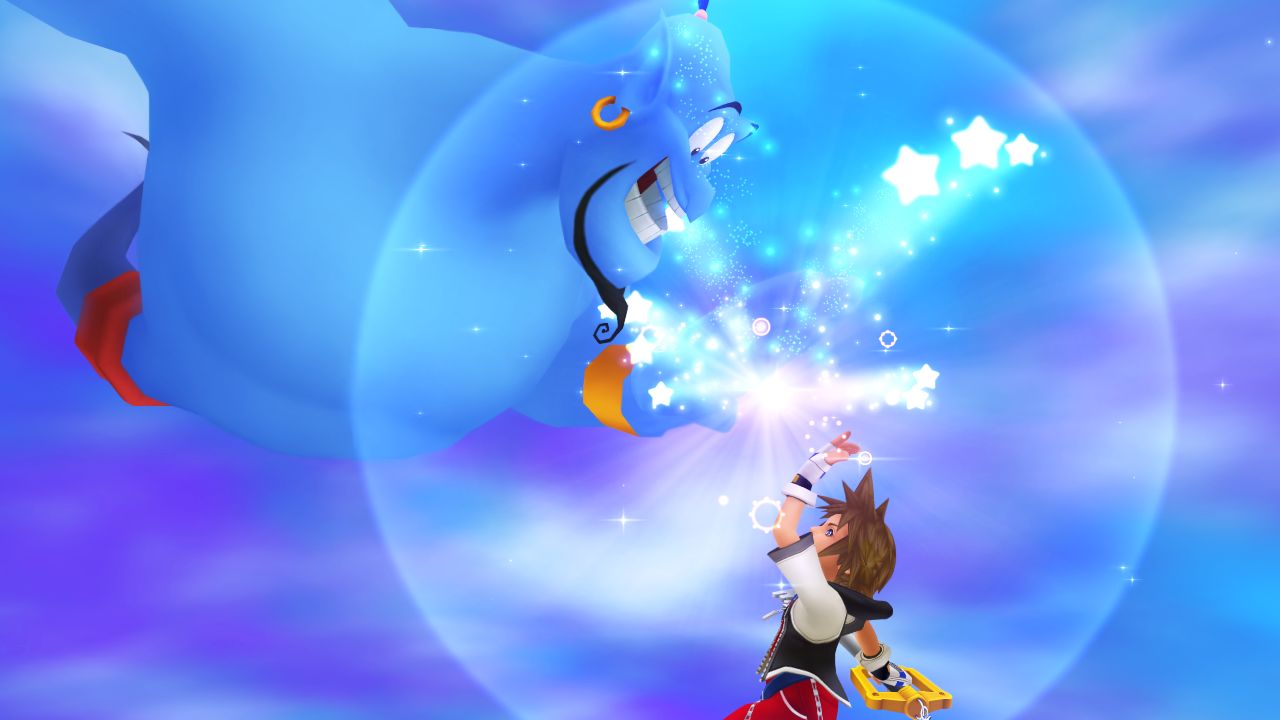 When we high-five, we make sparkles!
ZERO GEAR
Imagine if they included a settings menu for 358/2 DAYS, and that included the option to toggle the weapons from ORIGINAL to ZERO GEAR. Umbrellas, pizzas... all in glorious HD. Easily worth a platnium.
KAIRI... KAIRI'S INSIDE ME?
Just do it Nomura. There's no excuse except for actual trophies that are worth something.
KINGDOM HEARTS II
*Congratulations on unlocking the super secret suprise, KINGDOM HEARTS II FINAL MIX HD. To select the game, please go to the main menu and choose it from the drop down menu*.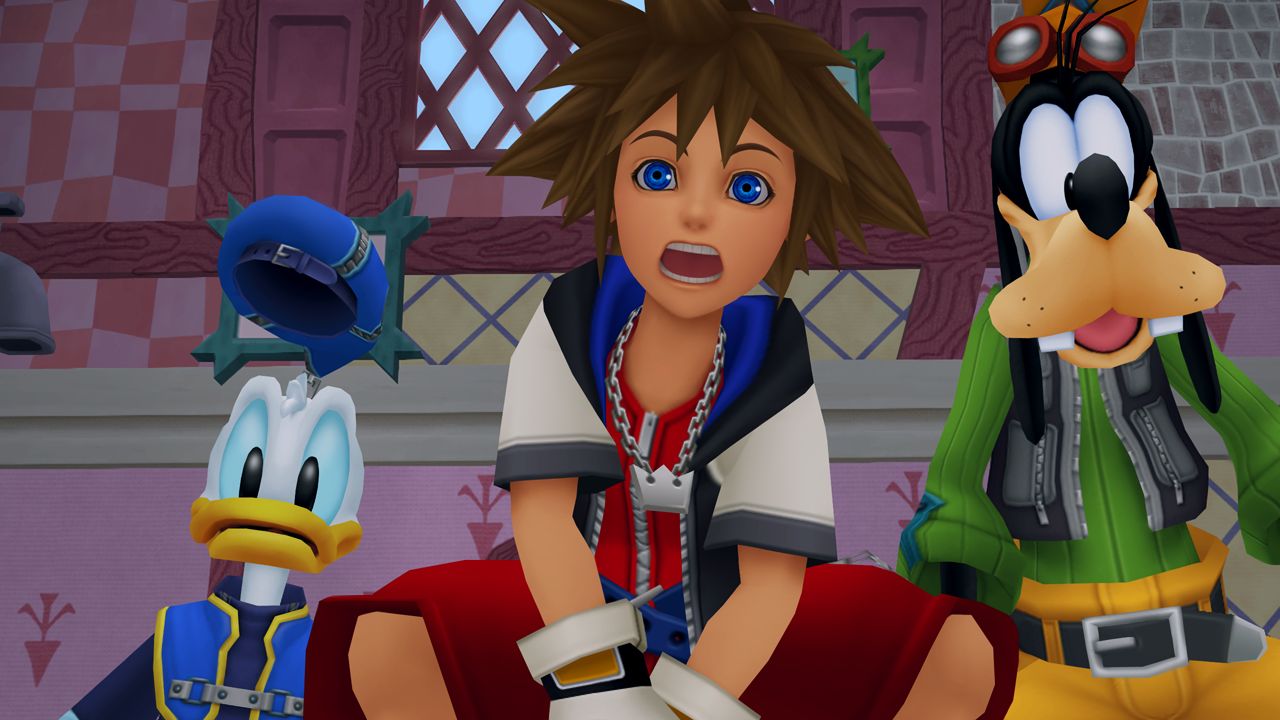 YOU'RE RELEASING THE FINAL MIX OUTSIDE OF JAPAN!?