Details

Published on January 17, 2012 @ 08:09 pm
Written by Josh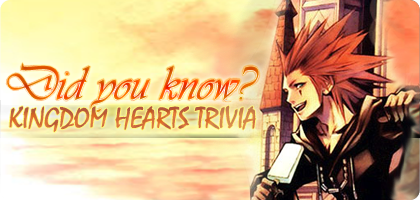 Out of all of the newly introduced Organization members in Chain of Memories, Nomura's favorite was Axel. Axel was also favored by the majority of the staff. Nomura described Axel's future role in KH2 as "delicious", and that his story could make you cry.
Source: Kingdom Hearts: Chain of Memories Ultimania Interview
Do you think Axel was "delicious" in KH2? Well come chat about this and the rest of the trivia on our forums!
©2016 KHInsider. KINGDOM HEARTS official artwork, trailers, characters, merchandise, and music is copyrighted to Square Enix and Disney.
Original material is licensed under a Creative Commons License permitting non-commercial sharing with attribution.
Please read our privacy policy for more information | Legal Information