Details

Published on April 14, 2012 @ 05:48 pm
Written by Cecily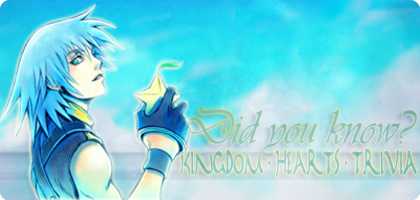 Director Nomura was deadset on choosing Utada Hikaru to compose the series' theme songs from the very beginning, despite the beliefs of failure from the other staff. In fact, persuading them otherwise took more time than to negotiate with Utada.
Source: KH1 Ultimania
Talk about ironic, but you have to do what you have to do! Drop by to discuss the trivia with us here in our forums, where you can also peruse the archive in case you've missed one or two!
Previous trivia: [1] [2] [3] [4] [5] [6] [7] [8] [9] [10] [11] [12] [13] [14] [15] [16] [17] [18] [19] [20] [21] [22] [23] [24] [25] [26] [27] [28]
©2016 KHInsider. KINGDOM HEARTS official artwork, trailers, characters, merchandise, and music is copyrighted to Square Enix and Disney.
Original material is licensed under a Creative Commons License permitting non-commercial sharing with attribution.
Please read our privacy policy for more information | Legal Information