Details

Published on April 13, 2012 @ 06:31 pm
Written by Josh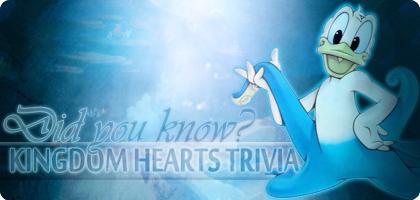 As you probably know, Monstro from Disney's Pinocchiowas used as an entire world in the original Kingdom Hearts. Well did you know that Monstro was also going to be a boss Sora, Donald and Goofy fought while traversing on the Gummi Ship? The development team ran into some difficulties programming the massive whale though, and it was eventually cut from the game.
Personally, I would have really enjoyed to scuffle around with Monstro before being sucked in by him. Not only that, but it would make their efforts to avoid the oncoming space traveling aquatic mammal seem more realistic too!
How do you feel about this Gummi Ship battle that could have been? Well come fly onto our forums to talk about this fun fact as well as our entire trivia archive!
Source: Kingdom Hearts Ultimania
Previous trivia: [1] [2] [3] [4] [5] [6] [7] [8] [9] [10] [11] [12] [13] [14] [15] [16] [17] [18] [19] [20] [21] [22] [23] [24] [25] [26] [27]
©2016 KHInsider. KINGDOM HEARTS official artwork, trailers, characters, merchandise, and music is copyrighted to Square Enix and Disney.
Original material is licensed under a Creative Commons License permitting non-commercial sharing with attribution.
Please read our privacy policy for more information | Legal Information