Details

Published on April 12, 2012 @ 06:50 pm
Written by Arielle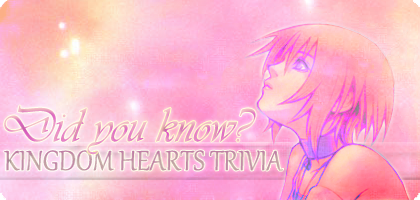 Kairi's name was originally going to be left as "Kai," but Nomura didn't think it was feminine enough for her character. In order to find a way to make her name sound more feminine, Nomura went through and added each Japanese syllable to the end of her name (starting with "a") until he found the one he liked.
Thus, Kairi's name was born!
I think Kaia, Kaine, and Kaiya would have sounded pretty. What do you think? Tell us down on the forums and don't forget to check out all of our past trivia in our trivia archive!
Source: Kingdom Hearts Ultimania
Previous trivia: [1] [2] [3] [4] [5] [6] [7] [8] [9] [10] [11] [12] [13] [14] [15] [16] [17] [18] [19] [20] [21] [22] [23] [24] [25] [26]
©2016 KHInsider. KINGDOM HEARTS official artwork, trailers, characters, merchandise, and music is copyrighted to Square Enix and Disney.
Original material is licensed under a Creative Commons License permitting non-commercial sharing with attribution.
Please read our privacy policy for more information | Legal Information