Details

Published on February 11, 2012 @ 08:09 pm
Written by Josh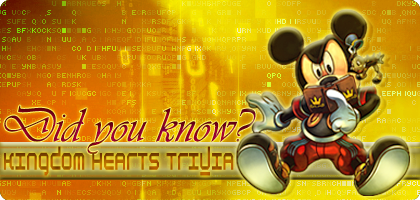 Remember the White Mushroom Heartless from the original Kingdom Hearts? How they only appeared with other ones when you encountered them? Well it turns out that during development there was some trouble animating the Heartless which caused it to take up much more data than expected. This meant that no other enemy could share the spotlight unless it was another White Mushroom.
One of the animations it performed was when a little light appeared above it's head, which prompted you to cast Thunder magic on it. This is actually meant to imitate a street light! See the resemblance? When the White Mushroom was being designed the team was told to make it look dark and depressed, and what's more dark and depressing then standing under a single street light on a dark road?
Source: Kingdom Hearts Ultimania
DId you learn something new about this peculiar Heartless? Even if you didn't, come join in on the discussion of this trivia and our past entries on our forums!
Previous trivia: [1] [2] [3] [4] [5] [6] [7] [8] [9] [10] [11] [12] [13] [14] [15] [16] [17] [18] [19] [20] [21] [22]
©2016 KHInsider. KINGDOM HEARTS official artwork, trailers, characters, merchandise, and music is copyrighted to Square Enix and Disney.
Original material is licensed under a Creative Commons License permitting non-commercial sharing with attribution.
Please read our privacy policy for more information | Legal Information