Details

Published on February 10, 2012 @ 09:26 pm
Written by Arielle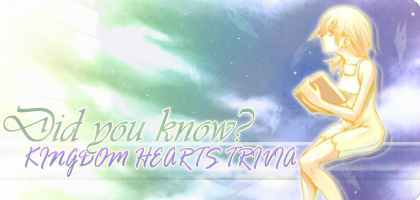 It is not news to any fans that Leonard Nimoy, know for his iconic role as Spock in the sci-fi franchise Star Trek, voices Master Xehanort in Kingdom Hearts: Birth By Sleep. It is also well known by the fandom that Mark Hamill, who is best known by his role as Luke Skywalker in the Star Warsfranchise, voices Master Eraqus in the same game.
Something not many know is that Nomura personally requested for the both of them to voice their respective characters because of their past roles as Spock and Luke Skywalker.
Considering the conflict between the two characters in the game, it seems almost like an extension of the age old debate, "Star Trek versus Star Wars." At least we found out Nomura is a big science fiction fan!
Source: Dengeki PlayStation - Nomura Interview July 2010
Found this trivia fascinating? Come discuss this and our past trivia on the forums!
Previous trivia: [1] [2] [3] [4] [5] [6] [7] [8] [9] [10] [11] [12] [13] [14] [15] [16] [17] [18] [19] [20] [21]
©2016 KHInsider. KINGDOM HEARTS official artwork, trailers, characters, merchandise, and music is copyrighted to Square Enix and Disney.
Original material is licensed under a Creative Commons License permitting non-commercial sharing with attribution.
Please read our privacy policy for more information | Legal Information