Details

Published on February 7, 2012 @ 09:25 pm
Written by Arielle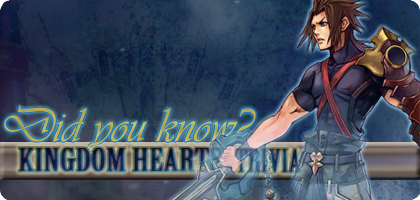 Final Fantasy characters were included in Kingdom Heartsto play roles that were not possible for Disney characters to play.
Leon was decided to play the role of the "guiding swordsman" who'd lead Sora in the right direction on his journey. However, if people immediately saw his original name (Squall) in Mickey's letter before actually meeting him, it would take away all of the suspense and the impact would be greatly weakened. Event Planning Director Jun Akiyama suggested to change his name for that reason.
Source: Kingdom Hearts Ultimania
Who'd of thought? The introverted, taciturn grump in Final Fantasy VIII turned to a mentor-like character! Well, at least he didn't turn out like Navi in the Zeldaseries.
Come discuss this and all of our past trivia on the forums!
Previous trivia: [1] [2] [3] [4] [5] [6] [7] [8] [9] [10] [11] [12] [13] [14] [15] [16] [17] [18] [19] [20]
©2016 KHInsider. KINGDOM HEARTS official artwork, trailers, characters, merchandise, and music is copyrighted to Square Enix and Disney.
Original material is licensed under a Creative Commons License permitting non-commercial sharing with attribution.
Please read our privacy policy for more information | Legal Information