Details

Published on February 2, 2012 @ 08:06 pm
Written by Cecily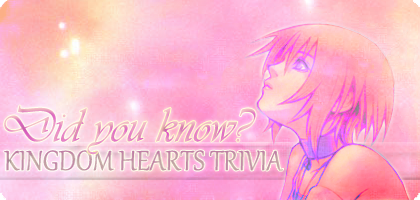 KH1 Animation Director Tatsuya Kando had counted the total number of animations used in the game, including those that were cut with unused event scenes, reaching a total of almost 8000. He refers to these animations as "animations of the heart".
Likewise, there are many "models of the heart" as well. KH1 Character Modeling Director Tomohiro Kayano had created many unused models of original monsters and characters from the 1997 Disney animated film "Hercules".
Source: Kingdom Hearts 1 Ultimania
Can't believe Kando-san actually counted all 8000 or so animations. And what's this about unused models of monsters and characters from Hercules!? Chat with us here in our forums about these new revelations and much more!
Previous trivia: [1] [2] [3] [4] [5] [6] [7] [8] [9] [10] [11] [12] [13] [14] [15] [16] [17] [18] [19]
©2016 KHInsider. KINGDOM HEARTS official artwork, trailers, characters, merchandise, and music is copyrighted to Square Enix and Disney.
Original material is licensed under a Creative Commons License permitting non-commercial sharing with attribution.
Please read our privacy policy for more information | Legal Information