Details

Published on January 31, 2012 @ 08:39 pm
Written by Arielle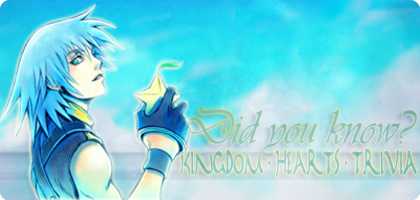 The original scenario of Kingdom Hearts involved Sora going to rescue the Princesses of Heart with their respective "princes".
Source :Kingdom Hearts Ultimania
Imagine storming into Hollow Bastion with all of the Disney Princes walking behind Sora, ready to tear Maleficent's head off for kidnapping their loves. I thought it was badass already with the Beast there with fangs bared and claws sharpened, ready to tear every obstacle out of his way to save Belle. Him plus every other prince would be amazing!
Think that would have been cool? Come drop us a line on the forums, and comment on all of our previous trivia! We love to hear from you!
Previous trivia: [1] [2] [3] [4] [5] [6] [7] [8] [9] [10] [11] [12] [13] [14] [15] [16] [17]
©2016 KHInsider. KINGDOM HEARTS official artwork, trailers, characters, merchandise, and music is copyrighted to Square Enix and Disney.
Original material is licensed under a Creative Commons License permitting non-commercial sharing with attribution.
Please read our privacy policy for more information | Legal Information