Details

Published on January 30, 2012 @ 09:29 pm
Written by Arielle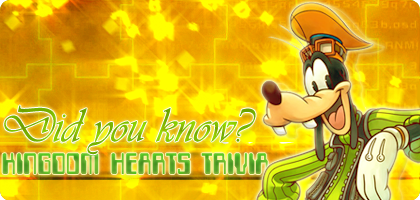 Nomura was in a room speaking with Hironobu Sakaguchi (if you don't know who he is, go take a look at Final Fantasyhistory~) about what kind of game he wanted to make, of which he had an idea in mind for an action game with stylized characters. Shinji Hashimoto and a Disney employee was speaking together in that same room, and the Disney employee liked the idea, and proceeded to suggest the use of Disney characters that are known worldwide because they're stylized.
After Nomura offered to work on the Disney game, he had no team and had to do all the planning and negotiations with Disney by himself. He worked solo for a year, beginning shortly after Final Fantasy VIII.
Because Nomura had to act as the director and artist at the same time, it became troublesome to work with both burdens, but the hardworking leaders in the team worked wonderfully throughout the entire process to do what he couldn't. However, sometimes he would be late finishing the drawings in accordance to the schedule, and would sneakily adjust it.
Source: Kingdom Hearts Ultimania
...And that, everybody, is the story of how Kingdom Hearts got its start!
Also, Nomura was a one-man team for a year! I don't know about everybody else but this really made me respect Nomura a lot more than I did before. It's hard enough getting a game planned with a team, let alone planning by yourself for an entire year.
Liked this trivia? Think Nomura is an utter sneak for what he would do? Come leave a post on our forums about this and the rest of the trivia!
Previous trivia: [1] [2] [3] [4] [5] [6] [7] [8] [9] [10] [11] [12] [13] [14] [15] [16]
©2016 KHInsider. KINGDOM HEARTS official artwork, trailers, characters, merchandise, and music is copyrighted to Square Enix and Disney.
Original material is licensed under a Creative Commons License permitting non-commercial sharing with attribution.
Please read our privacy policy for more information | Legal Information