Details

Published on January 25, 2012 @ 07:32 pm
Written by Arielle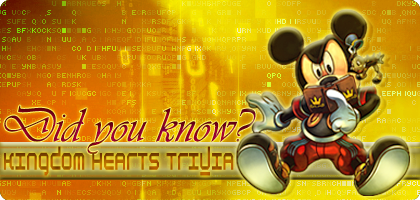 Composer Yoko Shimomura decided on Italian lyrics for the chorus of "Destati" as it was a language that could be listened to and not understand immediately like with English or Japanese. Other languages considered were German and Latin.
Although there are only 76 tracks on the KH1 Original Soundtrack, Shimomura actually composed 99. Why 99? Because she didn't want to have more than 100.
All together, Kingdom Heartshas over 15,000 individual sound tracks in the game. Note that sound tracks include things like the sound of footsteps, the clinking of the Keyblade's keychain, and other sound effects.
Source: Kingdom Hearts Ultimania
Going to guess Dream Drop Distance has way more than 99 tracks on the OST. Wish you knew what the other 23 tracks were? Think Shimomura should release them on an album one day? Come discuss this with us on the forums along with the rest of our daily trivia!
Previous trivia: [1] [2] [3] [4] [5] [6] [7] [8] [9] [10] [11] [12] [13]
©2016 KHInsider. KINGDOM HEARTS official artwork, trailers, characters, merchandise, and music is copyrighted to Square Enix and Disney.
Original material is licensed under a Creative Commons License permitting non-commercial sharing with attribution.
Please read our privacy policy for more information | Legal Information