Details

Published on January 24, 2012 @ 08:45 pm
Written by Arielle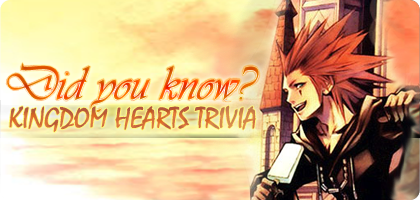 Before speaking with the staff, Nomura had chosen over 20 worlds to include in Kingdom Hearts, including original worlds.
To whittle them down, worlds were chosen based on popularity, if there were interesting characters to play as, and if there were interesting places to be in, in that order.
Source: Kingdom Hearts Ultimania
Nomura was like a kid in a candy shop, wasn't he? I know I'd try and put as many worlds into Kingdom Hearts as possible! Would you have done the same? Come tell us on the forums, and discuss all of the past trivia with everybody!
Previous trivia: [1] [2] [3] [4] [5] [6] [7] [8] [9] [10] [11] [12]
©2016 KHInsider. KINGDOM HEARTS official artwork, trailers, characters, merchandise, and music is copyrighted to Square Enix and Disney.
Original material is licensed under a Creative Commons License permitting non-commercial sharing with attribution.
Please read our privacy policy for more information | Legal Information