Details

Published on January 23, 2012 @ 07:51 pm
Written by Cecily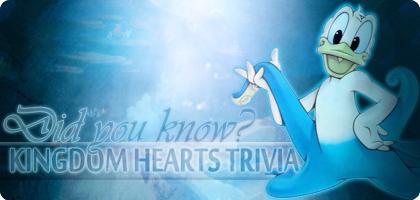 Originally, in the scene where Sora, Donald and Goofy first meet in Traverse Town, Donald and Goofy were supposed to explain abilities and the like through singing.
Source: Kingdom Hearts 1 Ultimania
♪Wanna learn about that key? Then come and sing a-long with me~♫
Well, you don't have to sing, but drop on by and discuss this piece of trivia and much more with us here in the forums!
Previous trivia: [1] [2] [3] [4] [5] [6] [7] [8] [9] [10] [11]
©2016 KHInsider. KINGDOM HEARTS official artwork, trailers, characters, merchandise, and music is copyrighted to Square Enix and Disney.
Original material is licensed under a Creative Commons License permitting non-commercial sharing with attribution.
Please read our privacy policy for more information | Legal Information