Details

Published on January 22, 2012 @ 04:01 pm
Written by Josh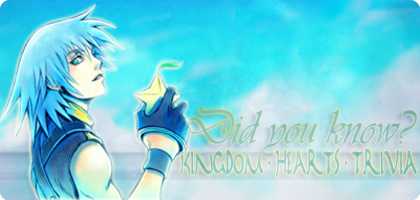 When asked about what kind of song he wanted from Hikaru Utada for Kingdom Hearts, Nomura said that the song would play during the ending where Sora and Kairi parted, since the concept of the scene existed even early on in development. He stated that he didn't want to make the ending look sorrowful, but optimistic.
Nomura explained that "The lyrics fit so perfectly that when I first heard it, I trembled and couldn't speak. I did ask her to not put in words that do not exist in the game's worlds, such as "cellphone", but she added in "television". (laugh) But I am glad that even from that, one can take away a deep meaning."
Source: Kingdom Hearts Ultimania
You would think Nomura would make sure Kairi knew how to spell before he conveyed all these emotions in his endings... Anyways, come join in the discussion of this bit and so much more on our forums!
©2016 KHInsider. KINGDOM HEARTS official artwork, trailers, characters, merchandise, and music is copyrighted to Square Enix and Disney.
Original material is licensed under a Creative Commons License permitting non-commercial sharing with attribution.
Please read our privacy policy for more information | Legal Information