Details

Published on January 8, 2012 @ 09:53 pm
Written by Cecily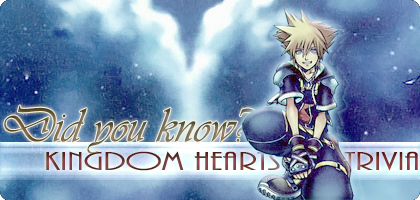 There is actually a "cursed song" within the KH1 soundtrack, one that you hear in both the beginning and the end of the game with a chorus (Destati), whose lyrics represents the dark side of Kingdom Hearts. Because the chorus was used in multiple tracks, it had to be loaded into each one during their creation. Whenever this was attempted, something bad would happen, the worst being the electricity to the entire building being cut off.
Source: Kingdom Hearts 1 Ultimania
Interested? Drop in to discuss with us here in our forums!
©2016 KHInsider. KINGDOM HEARTS official artwork, trailers, characters, merchandise, and music is copyrighted to Square Enix and Disney.
Original material is licensed under a Creative Commons License permitting non-commercial sharing with attribution.
Please read our privacy policy for more information | Legal Information