Details

Published on April 1, 2011 @ 02:28 pm
Written by Smile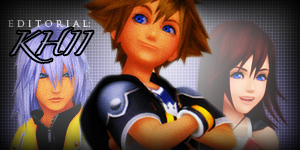 Ladies and Gentlemen, young and old.
I welcome you back to the final installment in this editorial, one dealing with The Trios in Kingdom Hearts. We began with Roxas, Axel and Xion, and continued on to look at Terra, Aqua and Ven. Though there are many trios still left to be examined, no entry about the topic can be complete without taking a good look at the one leading trio in the series - Sora, Riku, and Kairi.
When dealing with this trio, we're faced with a mountain of potential - A childhood together, a sudden and tragic parting, a race against time and each other to find one another, and above all - active plot roles of varying importance. Throw in a touch of potential romance and we're looking at what should've been a sure-win trio.
They are the one trio I can't take seriously, and in no small part because of their plot roles and their meanings.
Much like Terra, Aqua and Ven, this is another trio we're expected to accept as a fact without too much background. We're given the two days on the beach in Kingdom Hearts, and then they scatter. Most of the 'basis' for the 'trio' is manifested in Sora's will to find and save the other two, but they don't all come face to face until the very end of Kingdom Hearts II. Up to that point, even in the flashbacks, we only get to see two of them at a time, and even then - not all duos.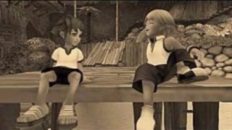 Much like with Terra and Ven, this trio also has a 'crown duo' to it that receives most of the focus, and is not so surprisingly the 'matching' pair - Riku and Sora. Sora and Riku's friendship was established from a very young age before Kairi even reached the islands. They promised to have an adventure together, and it is that closeness which fueled Riku's jealousy of and for Sora and eventually threw him into the Darkness. To him, the mere thought Sora had friends besides him was unbearable. Sora on his part never once stopped caring for Riku, and when he realized the Darkness was to blame, stopped at nothing to save his friend. It was for Riku Sora gave up a chance to return home, and it was for Sora Riku gave up his Self in order to defeat Roxas. The two played a game of cat and mouse all throughout Kingdom Hearts II and the climax was in a tearful, emotional reunion. Following it came a heart-to-heart chat that beat all of Days' ice-cream scenes combined, and the two agreed to become the Darkness together. They received quite a few flashbacks and mentions of their childhood together, and eventually even had those same childhood-selves admit what even Santa Claus already knew - there are few if at all friendships in the Kingdom Hearts series that beat theirs.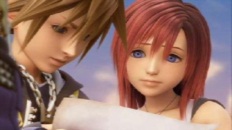 This is where things start going downhill though. The lesser of 'evils' is the Sora-Kairi duo. The two seem to have a bit of chemistry at the start of Kingdom Hearts, and all throughout the series Kairi is concerned for Sora's safety. Most of Sora's interest in the girl, however, stems from needing to save her, and Naminé's insistence he cares - a swamp-like issue all in its own right. At the very least - It's hard to say the two interact too much directly as befitting the girl filling the role of Princess - she's left out of harm's way by he who would be her Knight, and more often than not - away from he himself.
The bigger problem in this mess however remains the Riku-Kairi duo, a duo that for better or worse is almost never spoke of. We're teased about it at the start of Kingdom Hearts when they talk about leaving the islands, and supposedly receive a follow-up when Sora and Riku fight over the Keyblade and who will save Kairi. Comes Days, however, when asked, Riku replies Kairi is the girl Sora cares for, failing or refusing to include his own involvement with her. Kairi on her part displays a blind faith in Riku, one which can at times be seen as lack of concern in light of the circumstances, and her concern with Sora, standing in an everlasting contrast. She even failed to include him when she met with Hayner, Pence and Olette, leaving the task of explaining who Riku was to Sora.
The most dire issue is the relative ease in which one can claim Kingdom Hearts doesn't show this duo at all, either. Bear with me for this next paragraph, please.
In Traverse Town, Riku declared Kairi was perfectly capable of fending for herself, even with the girl being the one never shown to have fighting abilities or a weapon. She also lacked means of transportation. Despite this, he seemed to be more interested in his newfound freedom, until he met Donald and Goofy. Then Kairi became a means to try and coax Sora into coming with Riku in Monstro. When that failed, Riku was more enraged Sora picked a lifeless puppet over him rather than refusing to help Kairi. And then came Neverland, and Riku's comment about "old friends" - which also referred to Riku himself - gave an interesting twist to why Riku seemed so superior over finding Kairi first - it was payback.
With Kairi being comatose, it leaves Sora to be the trigger for these gradual developments. Each time Riku meets Sora, his behavior changes, and with a convenient explanation that can have nothing to do with Kairi.
With no flashbacks to speak of and a scene-switch that one time they did meet in Kingdom Hearts II, about the only thing claiming that Riku and Kairi care for each other when Sora isn't a factor is the plain fact that this is a Disney game.
This leads me to the one glaring flaw this trio has that forced them to use replicas and lookalikes in order to pretend there's a relation when if there is one - it's severely lacking. And that, in a sense, is also what redeems this trio.
Compared to the three Organization members in Days or the three Keyblade Wielders with the shared dream in Birth by Sleep , Sora, Riku and Kairi weren't meant to be a trio. We have two Keyblade Wielders who lost two years of their lives and were tainted by the Darkness. Opposite we have a Princess, lacking any known fighting abilities or weapons. She is constantly away from the other two, more often than not - because Sora and Riku left her there. Looking at Birth by Sleep, it's easy to see why - two children will save the universe; two. Not three.
Simply put - Kairi follows a different path than Sora and Riku. Joined with the fact that Kairi and Riku have been conceptive opposites since Kingdom Hearts - Riku with his Darkness and Kairi as a Princess filled with Light, it's so very easy to see why the girl will be kept so far away from the two by the very basic definition of their plot roles.
One can only hope, in light of Birth by Sleep and Re:Coded, that they got the hint too. The trio as a trio is less forced into the spotlight, and the natural duos left are left to flourish on their own. If and when the trio is shown as a trio, hopefully we'd see they learned from past mistakes and either begin anew - or begin utilizing the shaky foundations to fix what is arguably not only lacking in quantity, but quality as well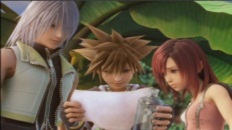 6.9 for the potential, for seemingly learning from mistakes, and of course - Sora and Riku.
In conclusion. It seems that all the main trios have flaws. Either it be conceptual, in the execution, or otherwise. There are flaws. But overall, I prefer to think it's bearable, seeing how some of these 'flaws' come by the characters' own definitions and stories, and rather than failing, they are simply living up to what can be expected of them. The series also continues, thus giving them the chance to make things better.
Or worse.
At least Sora, Donald and Goofy - are perfect. ♥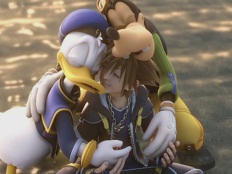 ~♥~
And I have thus ended my civil duty of keeping you entertained for as long as I could. Whether you agree or disagree, I hope you enjoyed the ride and seeing a possibly different point of view.
Worry now, however, as we shall not leave you - as we're always right here, in our forums, waiting to hear what you have to say.
©2016 KHInsider. KINGDOM HEARTS official artwork, trailers, characters, merchandise, and music is copyrighted to Square Enix and Disney.
Original material is licensed under a Creative Commons License permitting non-commercial sharing with attribution.
Please read our privacy policy for more information | Legal Information