Details

Published on March 28, 2011 @ 04:42 pm
Written by Smile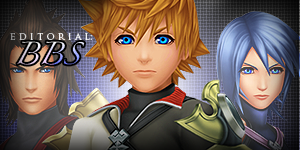 Welcome back, fans!
Even in the absence of Kingdom Hearts news, the staff still strives to help ease your boredom and anxiety as we await more information about the future of our beloved franchise.
So joined with the recent graphics update, yours truly is proud to present the next part of The Trios in Kingdom Hearts editorial.
We stopped last time when we gave Roxas, Axel and Xion a good pondering, and now it's time to pass judgement on the other new trio, the Keyblade Wielding trio of Terra, Aqua and Ven.
As opposed to the Days trio, Terra, Aqua and Ven are presented as friends from the start. They had their introduction in the game's tutorial, but before long Terra and Aqua received their solo-missions, and Ven ran away from home. When next they meet, Aqua didn't know how to handle Terra and his Darkness, Terra had to deal with an old friend and a father figure not trusting him, and Ven was so devastated he was on the market for new friends. They tried to hold onto what was left in the second half of the game, but it was all for naught.
For better or worse, that is what we get to see in Birth by Sleep - how those three friends fell apart.
Looking at their motifs and natures, one soon reaches the conclusion it was inevitable given even the smallest of conflicts. They were raised by a Master who loathed the Darkness. This made Terra out to be a black sheep when his own Darkness began getting out of hand, leaving him at odd's ends with the rest of the group, as well as with himself. Aqua was so torn between her new title of True Master and Eraqus, and her loyalty to Terra and Ven. She began pushing the others away at one point, believing it to be for their own good. Ven's past came back to bite him in the meanwhile, leaving the boy with no choice but to do away with himself. Small wonder they were scattered across the skies, waiting for Sora and Riku to grow up so they could save the lot of them.
It's hard for me to resent the tragic ending, seeing how Birth by Sleep having a sad ending was quite obvious. They didn't hold back with the conflicts, the dilemmas, and the inner monologues.
However, there's a problem when a trio is introduced for the sole purpose of being torn apart - the positive basis tends to be lacking. <br/ > For instance, their interaction can be summed up as Aqua bossing and yelling at everyone, Terra running away to Xehanort be it for reassurance or revenge, and Ven acting as the abused puppy who only wants a patting - no matter who from.
Even in the flashbacks, it's hard to see the trio as a true trio, since from even within the group and up to quite a high level of plot - Terra and Ven are the closer duo while Aqua's an odd addition seemingly there to raise the head count.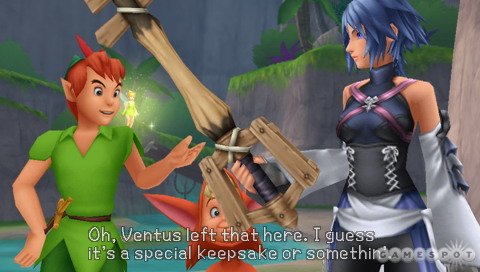 The first person to admit this is Aqua herself with her declaration the other two are like brothers, making one wonder where it leaves the girl herself in that regard.
The second is Master Xehanort, whose plans rely quite a great deal on Terra and Ven pushing each other forward according to his evil plots.
The third testimony is, sadly, the flashbacks which show us the precise point in time where Ven became so attached to Terra. He even kept the wooden Keyblade Terra gave him all those years ago, and considers it his priceless treasure. Small wonder then that Ven is the one Terra asked to watch his back when the need arises.
Aqua on the other hand received the mandatory flashback of being the one to find Ven waking up from his coma. She then proceeds to fill the less-than-favorable role of being the over-protective guardian. This created quite the harsh contrast to Terra, who kept giving Ven a chance to prove himself and showed his faith in the boy.
Ven in return is the one who calls Aqua out on her misbehavior in Radiant Garden and keeps her at an arm's length so long as it doesn't seem to bring him closer to Terra.
It's not like Aqua and Terra have too much going for them either, though. True, there is the current plot inside the game, but they presented almost nothing for it to fall back on. Even after years of living together, Aqua chose to listen to Maleficent - someone she declared to be a liar - instead of give a years-old friend the benefit of the doubt and a chance to be heard. I understand she was in a difficult position, all of a sudden thrust from being Terra and Ven's equal to being supposedly above them as one of the True Masters. However, is a tiny show of confidence too much to ask for, in light of all they supposedly have been through together?
Added with how we barely see anything positive out of the two from before, it leaves a great deal to be desired, what with Ven being the one who heard Terra 'attacked' Snow White, and not Aqua.
It's too easy to believe that rather than friends, they were barely classmates.
So, no. I do not need a whole game's worth of ice cream scenes in order for a relationship to be believable. However, for a trio to be one the audience can relate to, especially a trio whose fates were doomed from the start, there needs to be a contrast to the tragedy, proof that something was lost and therefore should be mourned. In that regards, the Birth by Sleep trio is quite an anemic, unconvincing trio, and it's a shame seeing how the emotional impact of their demises is meaningless as they're not too easy to relate to for some.
I need to care when they all go to hell for each other, don't I?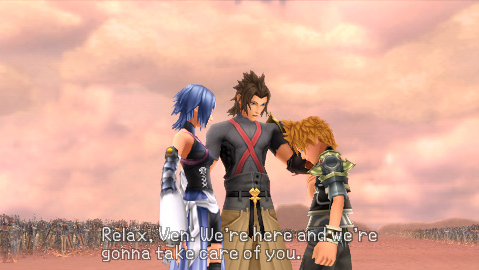 5 for the conceptual demise, and because Terra did try to balance it somewhat.
~♥~
And that's it for this time. Join us next time as we review the last of the dominating, Squenix-original trios in the series, the leading, main trio of Sora, Riku and Kairi!
Until then, you're welcome as always to have your own opinions voiced right here in our forums~
©2016 KHInsider. KINGDOM HEARTS official artwork, trailers, characters, merchandise, and music is copyrighted to Square Enix and Disney.
Original material is licensed under a Creative Commons License permitting non-commercial sharing with attribution.
Please read our privacy policy for more information | Legal Information