Details

Published on March 25, 2011 @ 05:27 pm
Written by Smile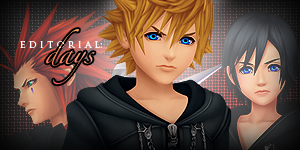 Greetings, fellow fans!
As you may have noticed, sadly, there hasn't been much going on in the KH scene. Worry not, though, as we shall not abandon you in your time of need. The staff is always hard at work to give you a good read, and thus, we are proud to present you with an editorial piece, written by yours truly. Due to its length, the entry will be cut into three parts, giving you also enough time to enjoy each one.
The topic of choice is The trios in the Kingdom Hearts universe, and will include an in-depth analysis of everyone's favorite trios - starting with one of the new trios, Roxas, Axel and Xion.
A trio overall is an efficient, strong group structure that's easy to come by in stories of all mediums. It gives advantages in many areas, such as the conceptual level - it breaks apart from the couple's black-and-white, without spreading to the bigger groups' rainbows. A similar advantage is seen when dealing with inter-character relationships and personal developments. We have more material than with a pair, but without the risk of losing focus on any character or relationship. There is also no risk of splitting into smaller groups, as happens too often with larger groups.
By this point in time, I dare say that Kingdom Hearts is all but infamous for its abundant usage of the trio structure. Most characters are part of at least one trio in some way, be they a minor trio, a Disney trio, or even a villain trio. Of course, quite a few trios are the story's main focus in the series.
But is it a good thing? Is this really what the Kingdom Hearts series needs? Or rather - has it fared well, using this format? We'll keep that question in mind as we review three of the series' top trios, starting from the one ranking lowest in visible plot importance, and we'll climb up from there.
The first trio hails from 358/2 Days, even though most of the fandom knew them first as a duo. It wasn't that great a shock when they too received a third member, a girl no less, and so we got the Organization's trio, consisting of Roxas, Axel and Xion.
When the trio got together, not many characters gave it a chance. Thought to be all regular Nobodies, they were beings without Hearts and without emotions. Therefore, friendships were to be fleeting illusions at best. Despite this, I grew rather fond of them.
The first reason is obvious. Quite a great part of the game was spent with them sitting in Twilight Town, having ice cream, and talking about nothing at all. They did that for months - meet after work, have ice cream, waste time together. There's no over-dramatizing anything, no relying on plot events to establish relationships, no throwing statements into the air. What you see is what you get, and it's only natural they ended up as best friends.
Another strong point is that they work well even in duos.
One obvious case is Roxas and Axel. The two's friendship was so strong it moved a great part of Kingdom Hearts II. Axel cared quite surprisingly for someone he was ordered to get close to to the point he was willing to sacrifice himself for Roxas, and I dare say that when Roxas found out Axel wasn't dead, it was one of the sweetest moments in the series.
Another obvious case is Roxas and Xion. While awkward around each other at first, once Xion became her own person she and Roxas made fast friends. Even if it means bringing sea-shells to each other, they freely show their concern for the other's well-being. Xion was a great part of why Roxas left the Organization, and it was for Roxas that Xion finally decided to return to Sora - for Roxas's own sake.
The surprise came with Axel and Xion. At first it was like they were both there for Roxas, but we were quickly shown a different picture. Even with Roxas gone the two spent time together, eventually making Axel unable to choose between his friends, even when giving Xion up meant saving Roxas - he simply couldn't bear parting with her. Xion on her part always keeps Axel in mind, never once neglecting to mention him in her list of people she cares for.
As far as their falling-apart goes, I'm also satisfied due to the simple fact - everyone are to blame. Xion took it all on herself, never giving the others a chance to help and maybe make a difference. With all due respect to Axel's good intentions, he was still constantly caught lying, which eventually made him untrustworthy to Roxas. And Roxas, more than not trusting Axel, simply chose not to listen to things even Xemnas confirmed time and again. It became so absurd that Axel's to blame when he stops Xion from attacking Roxas.
If I had to name a flaw - it would be Roxas's obsession with Xion and how it affects his treatment of Axel. They tried fixing it in his fight with Riku when he said he wanted both Xion and Axel back, but I thought no one was supposed to miss you, kid.
I'd say 8.5 for the landing.
~♥~
That's it for today. Join us soon when we turn our attention to the Keyblade Wielding Trio, Terra, Aqua and Ven!
Can't wait? Fear not, you can join us here, on our forums, let us know what you think and see how others felt about this!
©2016 KHInsider. KINGDOM HEARTS official artwork, trailers, characters, merchandise, and music is copyrighted to Square Enix and Disney.
Original material is licensed under a Creative Commons License permitting non-commercial sharing with attribution.
Please read our privacy policy for more information | Legal Information