Details

Published on May 16, 2011 @ 01:37 pm
Written by Cecily
Good day to you, everyone! Today, the staff would like to bring you a new editorial to keep you entertained during this unfortunate news drought, written by myself, Sign.
But what are we covering in this editorial, you ask? Why, the answer to that would be Disney!
We all know that the representation of Disney elements is one of the stronger, and the weaker points overall of the series. On one hand, they're, for lack of better words, amazing. We were able to fulfill our childhood dreams of dancing once upon a dream with Princess Aurora, or traversing through the backstreets of Agrabah with Aladdin on an Arabian... afternoon. On the other hand, it also suffers conceptually, thereby undermining the surreal experience with a rather peculiar feeling that something is just plain missing.
Please join me as we analyze the Disney aspect of Kingdom Hearts Birth by Sleep.
~DESIGN~
Kingdom Hearts exceeds visually by all means, and although our protagonists stick out like a sore thumb more often than not, the overall mood and atmosphere is still retained through making the transition from 2D western animation to the 3D world of a JRPG. It's clear that a vast amount of research was done in order to achieve the graphical clarity it has. The mouse holes in Castle of Dreams for example, are evidently designed with much attention to the assets found in 1750 Rococo architecture, due to a lack of conceptual artwork for these areas.
Now, if only these worlds were actually populated. Prince Charming has to be the least popular person ever if only four people showed up to attend his extravagant ball, considering he was intending to find his princess there, and Maleficent's sleeping spell seems to have the curious side effect of causing invisibility.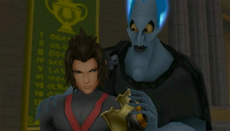 Speaking of which, this tends to be one of the bigger issues amongst the series. Tetsuya Nomura's character designs for this series aren't exactly normal. They're unique, jarring, don't really make much sense and are oftentimes just aesthetically pleasing rather than practical. A new outfit in various worlds however, may only be received as ridiculous (as popular magazine Game Informer has already made Sora out for being the video game equivalent of a Barbie), but last I checked, Japanese samurai don't exist in Ancient Greece. Oh well, wishful thinking.
3.5/5 - For the barely populated worlds and the protagonists sticking out like a sore thumb.
~MUSIC~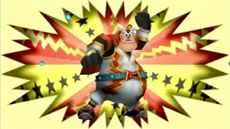 If there's one facet of the series that never fails to disappoint, it's the music. Yoko Shimomura continues to amaze me with her brilliant compositions. The arrangements for the worlds and their corresponding battle themes feel not at all unlike Alan Menken's original pieces. Listening to Risky Romp creates the feeling that you're witnessing the Queen Grimhilde toss potion after potion into a boiling cauldron, producing multicolor fumes and bright flashes. Hau'oli, Hau'oli portrays the more whimsical and mystical side of the cosmos, travelling a vast ocean of unknown origins. Hey, maybe that's why the Durgon pulled a Monstro!
But- while I could go on and on about the music, it certainly isn't what makes or breaks a world.
4/5- Because some of the tracks do tend to grate on your nerves. In this case, Hero or Heel is one of those that come to mind.
~CHARACTERS~
Like the design of the worlds, the characters thrive in a very similar way. They're beautifully rendered, despite the initial choppiness reigning from the lower poly models used in most scenes within the game. Regardless of the simple designs, even Jumba's simple striped prisoner's uniform is able to retain detail in the texture. The voice acting is also up to par as some of the best I've heard, as the replacements for the originals do very well in replicating their voices to bring the characters to life. Notable mention goes to Bret Iwan, who gave an impressive performance for his debut as Mickey.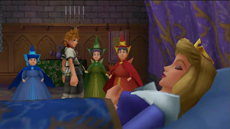 However, in comparison to their 2D counterparts, several characters are in fact, rather offsetting. While you can excuse Cinderella as being too preoccupied with the royal ball, it's unsettling that she would confuse Ven for a mouse. And even though Pete is known to be an egoistic sore loser at times, his attempting assault on the queen for losing a popularity contest is just a disappointment. But his presence in the series thus far has generally been that regardless.
4/5- For being somewhat out of character and leaving little to no impact on the protagonists outside of their worlds of origin. However, special mention goes to Princess Aurora, causing enough influence for Terra and Braig to refer to her outside of her own world long after the incident in Enchanted Dominion took place.
~SCENARIO~
Ideally, I would imagine that the scenarios were designed to incorporate our heroes into the original stories, while mingling in the game's overall theme and plot. Did Birth by Sleep succeed? In some ways, yes and no.
Their stories are reenacted, while still managing to tie into the central narrative, albeit at a bare minimum at times. The worlds where this is accomplished best are without a doubt, those following the events of Radiant Garden and Disney Town. Using Stitch as a means to represent Terra's struggle with his inner darkness and lust for power as he tries to come to terms with himself, and Peter Pan and the Lost Boys symbolizing Aqua's current relationship with her comrades deeply facilitated our understanding in them as individuals.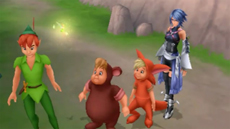 On the other hand, Birth by Sleep is hindered by the fact that the three scenarios were actually not written simultaneously. Given that the story transpires over a short period of time, perhaps it would have been more constructive if they had done so. While we are given blatant references and remarks to serve as reminders that our actions are still relevant, the characters suffer for it. These events would have done great towards their development, but the experiences within the worlds leave a seemingly shallow impression on them. Aqua in the Castle of Dreams and Dwarf Woodlands for example, where the Fairy Godmother tells her that she shouldn't fight darkness with light, and her realization that it may have been Ven's time to spread his wings. Sad to say, she completely forgets about these points almost immediately afterwards. Truly, having her scenario written last, Aqua endures the brunt of this misfortune.
3/5- What was done with the final few worlds should have also been done to those leading up to them.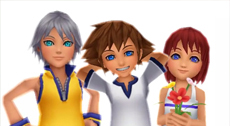 Well, nothing's perfect after all. Let's hope in the future, heaven's light will be able to shine brighter upon the Disney features rather than the burning flames of hellfire.
What do you think? Do you agree, or disagree? Please drop by to discuss with us here in our forums. We'll be here waiting for you with open arms~
©2016 KHInsider. KINGDOM HEARTS official artwork, trailers, characters, merchandise, and music is copyrighted to Square Enix and Disney.
Original material is licensed under a Creative Commons License permitting non-commercial sharing with attribution.
Please read our privacy policy for more information | Legal Information