Details

Published on May 8, 2015 @ 10:20 pm
Written by Sophearum
While we await KINGDOM HEARTS III, what kind of role do you think Kairi will play in the future? Alongside Sora and Riku, Kairi has also grown as a character and from behind-the-scenes. She possesses a number of important aspects that shaped the storyline and as well as hints that could shape the future the series.


A Fairy Tale


Kairi's grandmother frequently told her a fairy tale that evidently will play an important factor during the events of KINGDOM HEARTS III; as it tells the history of the Keyblade War. From E3 2014's teaser, it seems that Young Xehanort and Young Eraqus have also heard stories of the same event from their Master. Other characters that also know the fairy tale include Yen Sid and Maleficent. All these revelations are referring to the storyline that is taking place in KINGDOM HEARTS χ [chi]. Young Xehanort's fascination of the fairy tale eventually sparked his interest into plotting another Keyblade War. Since a few characters are familiar of the fairy tale, Kairi and Yen Sid may contribute their knowledge to better assess the situation that Master Xehanort is plotting.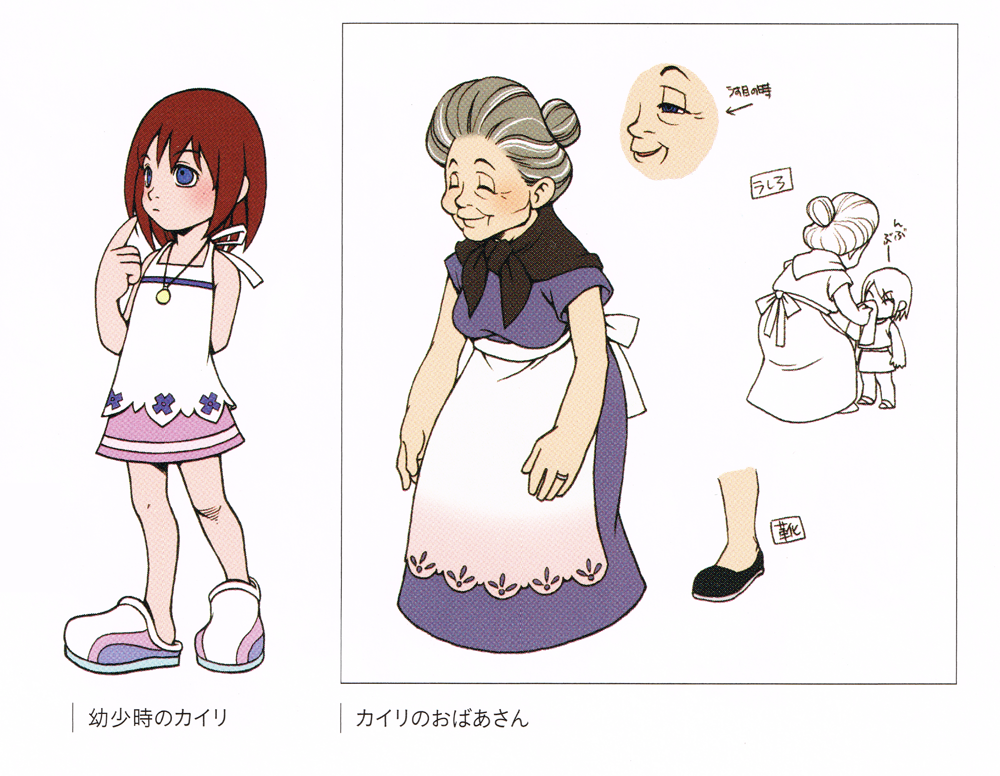 The stories mention Keyblade wielders fighting over the light in a Keyblade War but darkness swallowed everything including their hearts, the true Kingdom Hearts, 'lost masters', and the χ-blade. However, small fragments of light survived within the hearts of children and rebuilt the world. The χ-blade was divided into seven to protect the seven pure hearts. The pure hearts, also known as Princesses of Heart, are an important source of light in the worlds. If they are lost, the worlds are once again lost to darkness.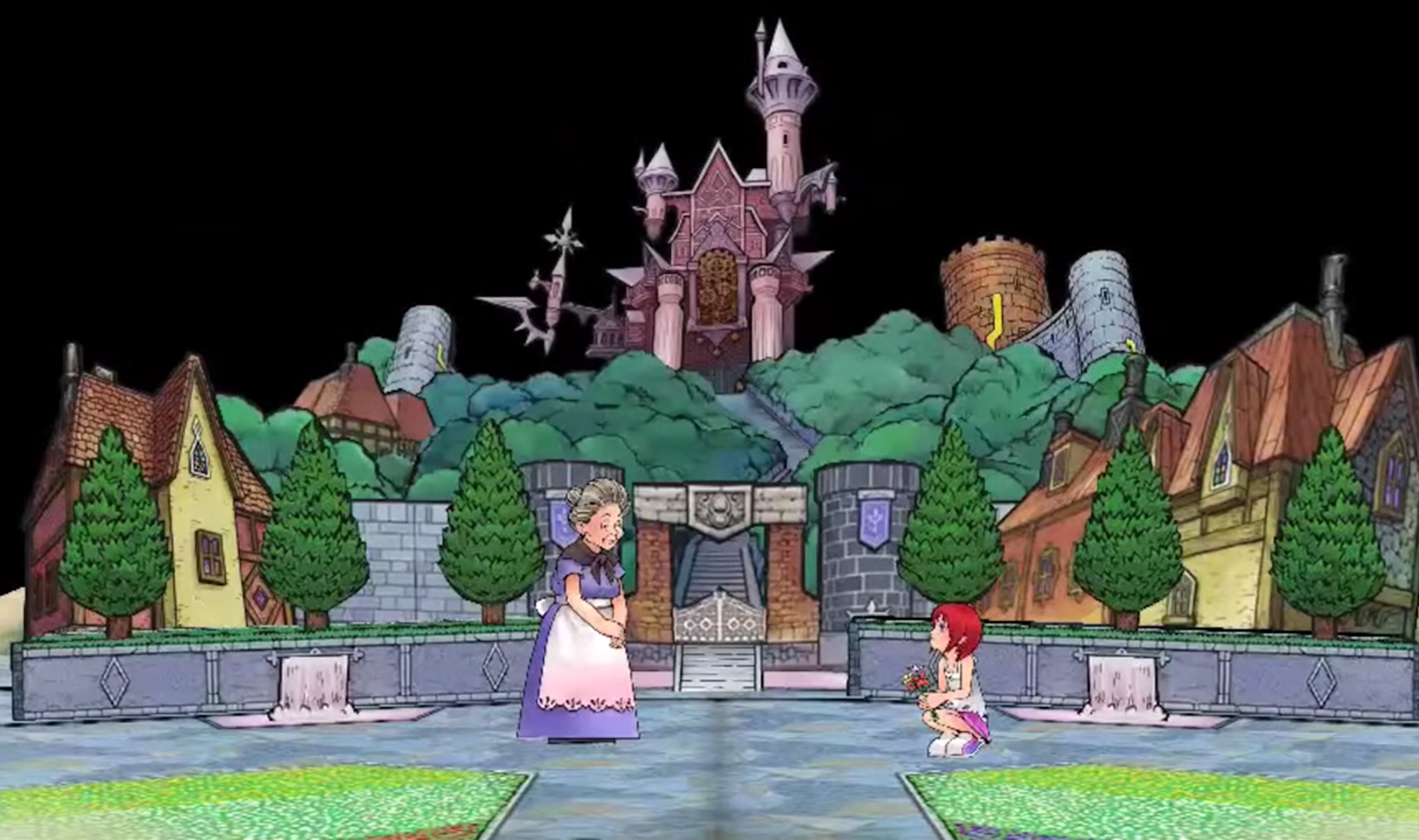 Long ago, people lived in peace, bathed in the warmth of light.
Role of her Character


Kairi is a person who both Sora and Riku consider as important. However, Sora and Riku's strong feelings and memories for Kairi, which makes part of their strength and weakness, have been used against them by their enemies. In KINGDOM HEARTS, Riku was more susceptible to darkness as he wanted to save Kairi. Maleficent and Ansem (Xehanort's Heartless) notably have manipulated the darkness inside of him in order to achieve their goals. In KINGDOM HEARTS II, Organization XIII has been using Kairi as a catalyst to fuel Sora's anger and expose his vulnerabilities. If something bad were to happen to Kairi in KINGDOM HEARTS III, a similar situation may occur.

Kairi also creates a good luck charm from Thalassa shells for Sora. According to legend, sailors create these charms to ensure safe travels. The Oathkeeper is symbolic of Sora's memories of Kairi whereas Oblivion is symbolic of Sora's memories of Riku. This also explains when Roxas has been affected by Sora's memories, he is shown wielding Oathkeeper and Oblivion. In the events of KINGDOM HEARTS Chain of Memories, Kairi's charm changes appearance when Sora's memories of Kairi have been altered. When Sora's memories have been replaced by fake memories of Namine, the charm took form of a paopu fruit.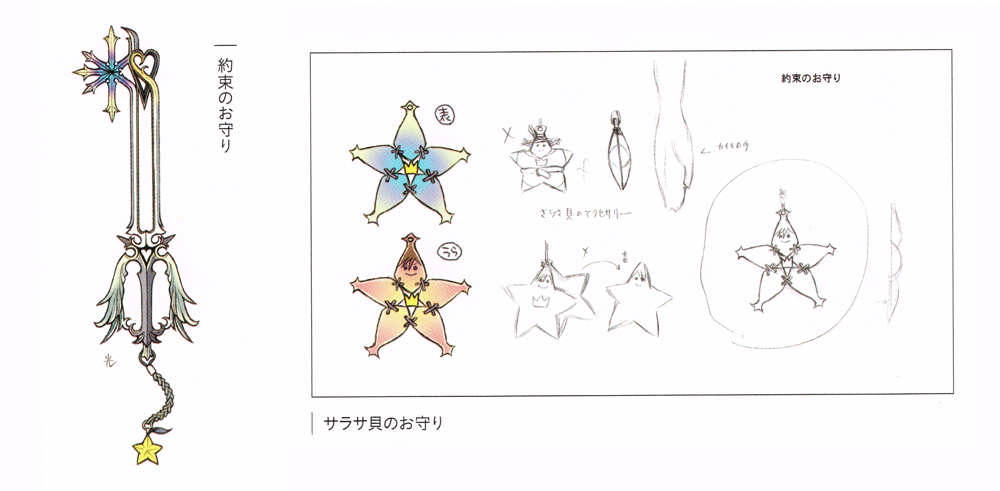 Oathkeeper and charm concept art.

Another scenario that involves Kairi's memories is Xion. Xion, a puppet made by Vexen, was intended to siphon Sora's memories from Roxas and become an alternative Keyblade wielder to be used in Xemnas's plans to form Kingdom Hearts. The memories that Xion first absorbs are Sora's strong memories for Kairi; making her strongly resemble Kairi as well.
Role of Princess of Heart


In the first KINGDOM HEARTS, we learned that Kairi plays the role of being one of the 7 Princesses of Heart. These princesses have hearts that are completely devoid of darkness and supposedly act as keys to unlock something greater. They are Kairi, Alice, Snow White, Jasmine, Belle, Cinderella, and Aurora.

The Princesses of Heart were pursued as early as during the events of KINGDOM HEARTS Birth by Sleep. Maleficent was told by Master Xehanort that the 7 Princesses of Heart were capable of granting and ruling untold power which influenced her to capture them. However in KINGDOM HEARTS 3D, it was later revealed that Master Xehanort was merely using Maleficent as part of his plans to forge the χ-blade. So how do Kairi, being a Princess of Heart, affect KINGDOM HEARTS III? Master Xehanort plotted multiple scenarios in order to obtain his goal. He mentioned that if the 7 Guardians of Light refuse to clash with the 13 Darknesses, they will chase after the 7 Princesses of Heart as an alternative to reach his goal. The worlds of the Princesses of Heart may make an appearance in the game as they reside in respective worlds.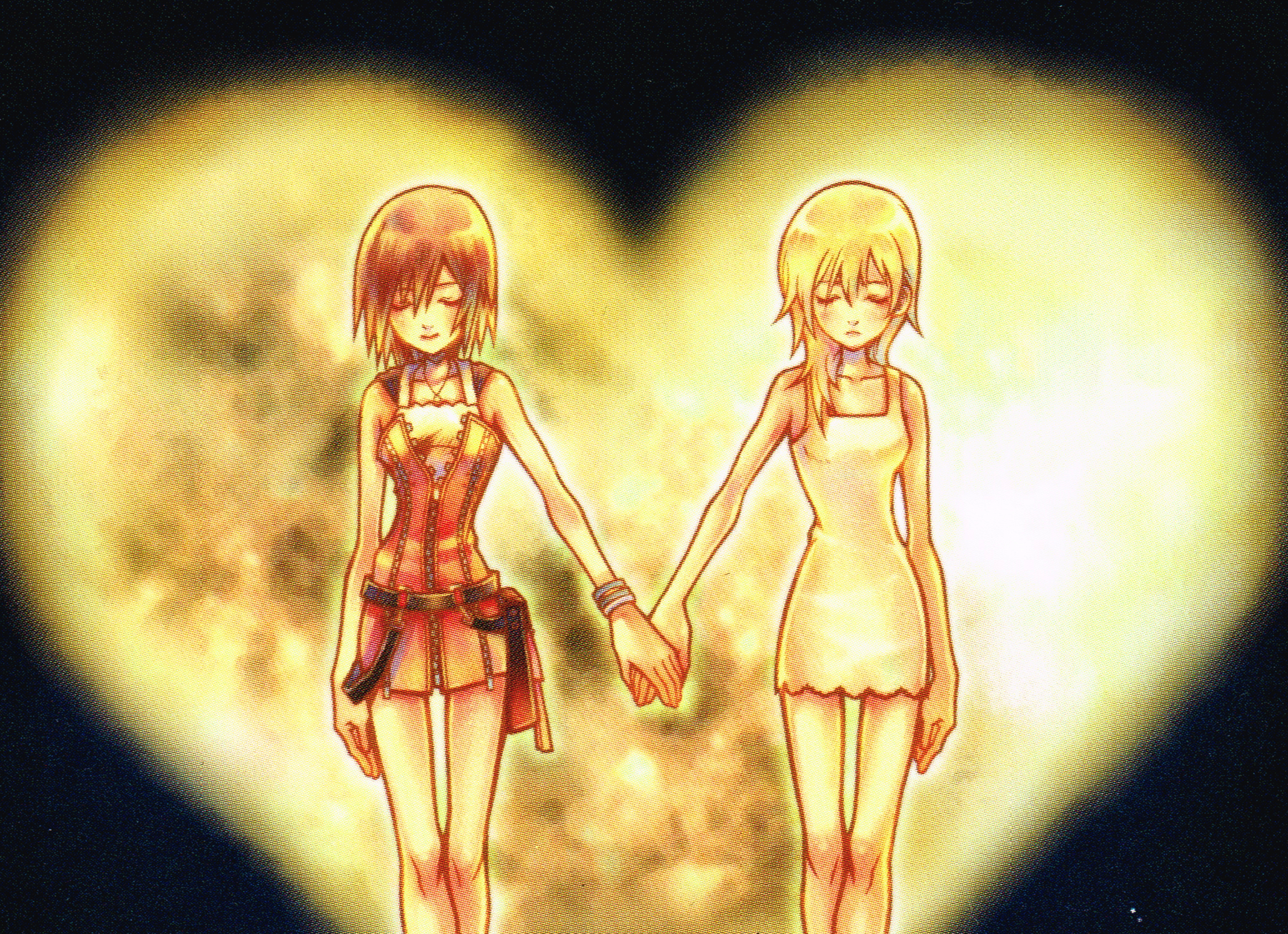 Kairi and her 'Nobody' Namine.

When Sora was opening his heart with the Keyblade of People's Hearts, it inadvertently caused Sora to have a Nobody named Roxas—and another 'Nobody' named Namine. Their appearance and attributes were influenced by the hearts of Ventus and Kairi respectively. Nobodies are born from strong hearts that are lost to darkness and have turned into Heartless. Kairi however, having a pure heart, cannot turn into a Heartless and have a traditional Nobody. DiZ specifically refers to Namine as a special Nobody as she was born from the pure heart of Kairi and the body of Sora. Because Namine is born from Sora's body, she also possesses the ability to manipulate Sora's memories and those connected to him. Kairi's pure heart also purified Sora back into human when he was in the form of a Heartless.

Despite the claims of Organization XIII that Nobodies don't have hearts, this lie was part of Master Xehanort's plan to turn Organization XIII into possible vessels for the 13 Darknesses. DiZ mentioned that anything, including Nobodies, puppets, and so forth are capable of growing their own hearts. Judging from this description, Roxas, Namine, and along with Xion may reappear as whole selves if Sora and Kairi accepts them as persons of their own.

Young Kairi touches Aqua's Keyblade.
Role of Keyblade Wielder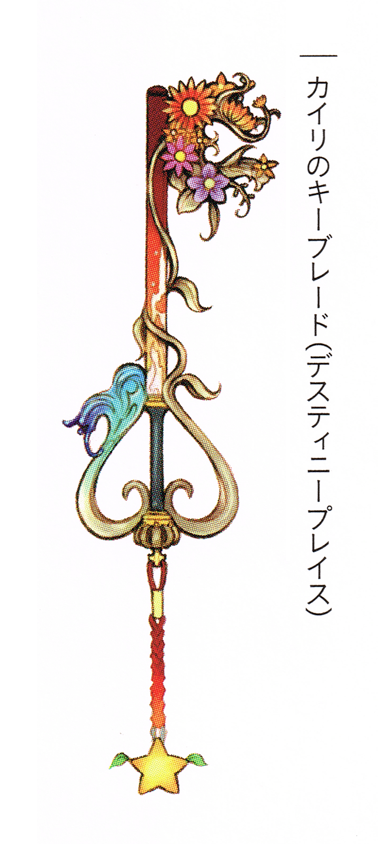 In KINGDOM HEARTS Birth by Sleep, Kairi unintentionally performed the Rite of Succession with Aqua by grasping onto her Keyblade when she tried to run away from the Unversed. The Rite of Succession does not necessarily hand down a Keyblade but when a person's heart meets the qualifications of a strong heart, he or she should be able to have the ability to wield a Keyblade. This eventually allowed Kairi to wield a Keyblade during the events of KINGDOM HEARTS II. Destiny's Embrace is the Keyblade unique to Kairi.

While Master Xehanort said it was a requirement to have 7 Guardians of Light, 13 Darknesses, and 7 Princesses of Heart, what potentially makes Kairi very special is that she can be capable of being both a Guardian of Light and a Princess of Heart. In the secret ending of KINGDOM HEARTS 3D titled 'Another Guardian of Light', the following phrases are mentioned:
The darkness awakens
the light in the darkness
leads to the last key.


It shows Kairi possibly about to undergo the Mark of Mastery. Most likely these phrases could be referring to Xehanort's plans, Aqua's presence in the Realm of Darkness, and Kairi. Will Kairi be the person that saves everyone this time? Why is she the 'last key'?

When one undergoes the Mark of Mastery, Yen Sid trains them under the Realm of Sleep and Keyblade apprentices unlock Sleeping Keyholes along the way. Presumably, Kairi will be traveling to worlds besides the ones Sora and Riku has already unlocked. One world I have in mind is Daybreak Town since it's connected to the fairy tale Kairi knew from her grandmother. It was a world that was lost to darkness or rather—to sleep. KINGDOM HEARTS χ [chi] revealed that Chirithy is a Dream Eater. Since Chirithy hasn't been available during the course of KINGDOM HEARTS 3D, he may reappear during the events of Kairi's Mark of Mastery instead.

What do you think Kairi will do in KINGDOM HEARTS III? Please give us your thoughts and comments!