Details

Published on November 20, 2012 @ 01:30 am
Written by Cecily
Players newly introduced to the KINGDOM HEARTS series are most likely to hear about an unspeakable evil from the moment they step into the community. Something so vile and unpleasant that it sends fans running off to the nearest PSP or 3DS to cleanse themselves, and that is the one, the only KINGDOM HEARTS CHAIN OF MEMORIES card-based battle system.
Obviously I'm being overdramatic here, and to tell you the truth, it really is not that bad. However, it is definitely controversial. Some have praised it to be the best in the series, while others can't stand touching the game ever again if it means they'd have to suffer through another millisecond of cycling through decks and compile sleights. Most can agree that having to do that with both the left and right index finger hovering protectively over the shoulder buttons, scrolling through all those cards and trying to remember where exactly you put those level 0's to break Riku Replica's infamous Dark Aura is an absolute huge waste of time. For some reason, the simple solution of better deck management is just simply not an option. The player isn't the problem, the battle system is, and something must be done about it.
What most people are unaware of is that something has been done about it, and that something has been eagerly embraced by many as the only system this series can ever use, and the only one it should ever use. Lets face it: once you go command deck, it's hard to go back to anything at all.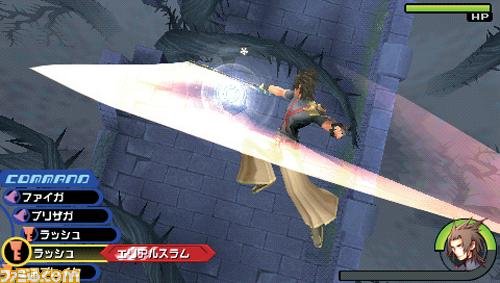 Let's start with KH. Exactly what does it take for a game to be "Kingdom Hearts"? Certainly the story and characters, the worlds, all the things that fill up the universe within it. But it's not just that. It's the battle system as well. Kingdom Hearts's battle system, according to Director Nomura, is meant to convey the feeling of pure invigoration and glee, where the player can feel the strength of their avatar within the world rushing through their body and feeling that sense of bliss and satisfaction. It's where you can realize that, hey, you're really cool! Look at all the incredibly things you can accomplish, regardless of the shape or form it comes in.[1]
The command deck system, making its debut in the 2010 installment KINGDOM HEARTS Birth by Sleep, is an evolved form of the card system previously utilized in Chain of Memories.[2] Shocker right? Who would have ever thought something "good" could come out of those despicable cards? To tell you the truth, many individuals, particularly those in the development team over in Osaka. The transformation from the original KINGDOM HEARTS to KINGDOM HEARTS II alone should have been a huge giveaway: this series isn't done evolving yet! As the characters grow and the story expands, it'd be impossible to retain the same gameplay system all the way through. Well, not impossible, but perhaps a better way to say it would be "unplayable."
How many of us have picked up a Playstation 2 controller after completing Birth by Sleep or even the latest KINGDOM HEARTS 3D [Dream Drop Distance], and downright struggled getting through the game? "Those menus are nice, but what I'd really like to do is to whip out my trusty Balloonga to devastate the battle field! When will I be able to do that in these games?" In my dreams apparently (no pun intended), because we're stuck with the basic melee attacks and magic with that glorious MP bar, which I'm sure we're all just dying to see again!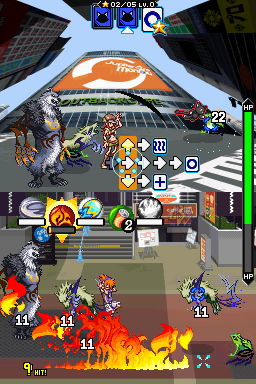 We're not done yet though. Of course the jump from Chain of Memories to Birth by Sleep is far too great to accomplish with just that. Surely there must be other sources of inspiration that went into making the command deck the fan favorite in the series? You're absolutely right. There was one other title whose gameplay provided a great influence in the creation of this system, and that is the Nintendo DS cult classic THE WORLD ENDS WITH YOU.[2]
Let that sink in for a while. Abandon all thoughts of dressing the Players up in ridiculous outfits from Lapin Angelique and Natural Puppy, and just concentrate on the battle. Focus on the pins. They are to The World Ends With You what commands are to Birth by Sleep. The player can customize Pin decks, a maximum of 6 assuming you've gathered the necessary stickers to unlock the extra slots, each with a unique special ability, design and cooldown timer. With points accumulated through battle and various other means, you can level up your pins to increase their strength. Carried over to Birth by Sleep, we have commands, command decks, experience points, cooldowns, and all those zany and ridiculously overpowered attacks we know and love.
If only they also adopted other aspects from the DS title! Even though I said previously to abandon all thoughts about this subject, I personally would love if there actually were other outfits for our three protagonists! At least then they wouldn't stick out like a sore thumb in every world! But that's neither here nor there so pipe dreams must remain pipe dreams.
One thing's for sure, the command deck system is here to stay. No matter where it originated from, it's evolved, been influenced and grown far beyond our expectations. The one thing left to do is see just how far it can possibly go. The only question is, do you want to come along for the ride?
[1] Interview with Director Tetsuya Nomura in Famitsu Weekly, June 19 2008
[2] Interview with Director Tetsuya Nomura in Famitsu Weekly, September 2007 issue and Gemanga, October 02 2007