Details

Published on January 11, 2013 @ 04:54 am
Written by Sharjeel
Let's step back in time. Over a decade, back to the year 2002. I, like many of us, was in that awkward phase between child and teenager. Young, imaginative, naïve, and very easily influenced. I would imagine I was watching a television channel meant for kids back then, Nick or Cartoon Network, and this commercial catches my eye:
Sephiroth and Donald Duck in the same commercial!?
Make no mistake, Disney was literally a pillar of my childhood. My times at Disney World as a young kid are still fresh in my mind as some of the most nostalgic moments of my early childhood. Through the years, I always carried a stuffed Simba plush with me wherever I went. Duck Tales was (and to some extent still is) my favorite cartoon series.
Despite all this, the Disney facets of what I saw only spiked my curiosity. The nail on the coffin that determined my rush to the store was actually the Final Fantasy cameos. You see, introduced with Final Fantasy IX and just a few days later VII, I was in a bit of a phase with the series, something leaning towards obsession (one that would go on to help define my adolescence). And thus I was hooked to Kingdom Hearts, thanks to Final Fantasy.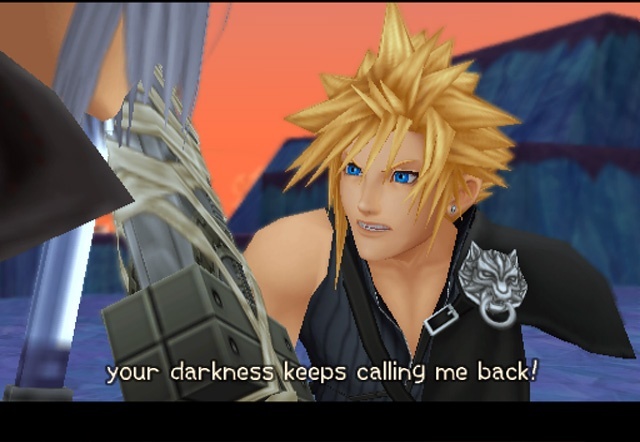 From characters to spells and weapon names, the Final Fantasy brand has strong roots in the Kingdom Hearts series. And there is no doubt at all that the two franchises have many cross over fans. In many respects, Final Fantasy is what built Kingdom Hearts. And it benefits from it too: as fans of the Kingdom Hearts series get older, it becomes only natural for them to check out the Final Fantasy series. We have experienced this within our own community.
But does Final Fantasy still have a place in the series, and does it even matter?
For me at least, that answer in undoubtedly yes on both accounts. There was no experience quite like having Leon and Yuffie save my behind in Traverse Town, or Auron tagging along in the Olympus Coliseum. I even got to meet my favorite character, Vivi, for a small bit. These characters whom I had played as in other games were now assisting me in my own adventure, it was a wholly unique feeling at the time.
The climax of all this awesomeness was felt in the latter half of Kingdom Hearts 2, during the heartless battle in Hollow Bastion. One after another, a Final Fantasy veteran would temporarily join the party to assist in this very tense moment. From Leon to Yuffie to Cloud to Tifa, every second of game play during these moments is a delight. This is on top of seeing the extended cast (Aeirith, the Gullwings, etc) also joining the fight in cut scenes. These moments made Hollow Bastion one of my favorite worlds!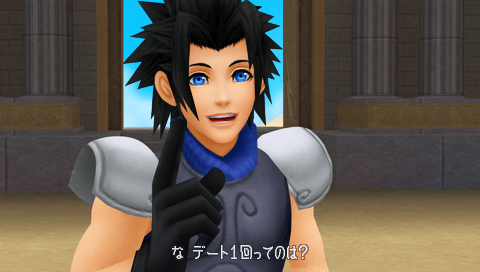 But since then, Final Fantasy fans have not been so blessed. Other than a very meaty role for Final Fantasy VII's Zack in Birth by Sleep (well suited, considering Crisis Core's success on the PSP), the best we have gotten is small cameos by Moogles as shop keepers for the many items one can buy.
The latest entry, Kingdom Hearts 3D, scrapped Final Fantasy all together in favor of another, much more niche series, The World Ends With You. (This title debuted on Nintendo hardware, and was a cult favorite among RPG fans).
Is that the best we will get going forward? As adorable as the Kingdom Hearts rendition of the Moogle is, they really do not do much at all but provide menu text, something any NPC can do. The series deserves much better.
Hopefully, with an eventual Kingdom Hearts 3 expected for more powerful hardware, we will see the return of multiple Final Fantasy cameos, including as party members. I am not exactly sure how far Square Enix is willing to push it, but it would be pretty awesome if in Kingdom Hearts 3, additional party members, both Disney and Final Fantasy, were able to travel with you to other worlds (making them permanent, akin to Donald and Goofy).
We have seen the release of three major Final Fantasy titles since the release of Kingdom Hearts 2: FFXII, XIII and XIV. Personally, it is an absolute must that Balthier show up in the series eventually. He is easily my most wanted character. It would be a grave injustice for the sky pirate/ladies man NOT to show up to muddle things up for Sora and co. And if I had to pick a character from the dreaded XIII series, I would not mind seeing the duo of Fang and Vanille.
And there is still an extensive back catalog of Final Fantasy characters to go through. My top picks would have to be Rinoa from Final Fantasy VIII (love interest for Leon anyone?) and Zidane from Final Fantasy IX.
But to be honest I don't think Final Fantasy has the brand power that it used to, Kingdom Hearts can certainly sell copies on its own. Nobody will be picking up Kingdom Hearts 3 just because it has Lightning in it.
---
What are your thoughts: Does Kingdom Hearts still need to include Final Fantasy characters, and if it does, what characters would you like to see in Kingdom Hearts 3? Share your suggestions below!