Details

Published on June 18, 2015 @ 06:17 am
Written by Joey
It's been a wild few days, but you can't blame anyone for being excited! A new Kingdom Hearts 3 trailer came out, revealing the open worlds of Hercules and Tangled, as well as an English trailer for Unchained x! It's the stuff that many people day dream of and it actually came true!
Magic has been in Kingdom Hearts from the beginning. Taken from it's Final Fantasy roots, Sora has the ability to case a wild array of spells from fire, to cure, to gravity. While not every basic spell has been available to Sora (sorry water, watera, waterga), he's still had a lot of his sleeves to use.
In Kingdom Hearts 3, magic has been taken that one step further. There's lots to go over with just the three spells used in the game (if you spotted any more just let us know!) so lets just get straight to it! (And no, we're not taking the lightning from the Chariot into consideration here.)
Spell 1: Fire!
Fire has been mainly consistent throughout the games. It's only real change was in Kingdom Hearts II where it became a protection spell, however from then on it changed back to being a projectile attack. Kingdom Hearts 3 is no different, Fire launches from the Keyblade (which is glowing hot from the use of magic) and is shot towards one of the Heartless. From the gif below, Fire looks to be one of the most graphically upgraded advances of the spell, with the trail of flames it leaves behind. I can only imagine what the highest level of Fire will achiece.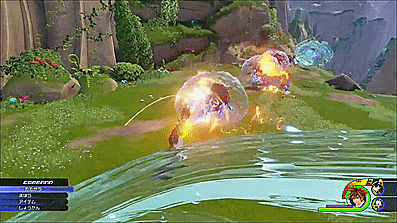 Spell 1.5: Water!
While Water as a basic spell has not been used by Sora in the series thusfar, Water enemies have been added to the Hercules world. Here the Heartless are surrounded in an orb of Water but one of the most interesting things to note here, and why I'm including it, is because one of the Heartlesses sends the ENTIRE orb to attack poor old Goofy! (and it does a lot of damage, poor fella).
Another thing to note are the rainclouds. So far it doesn't look to be doing anything substancial to Sora other than to wet his socks. Hopefully later on it becomes a raincloud worthy of caution where it can inflict status ailments such as Poison.
Hopefully the addition of Water here isn't something that's only available to the enemies, much like Demyx's power. Demyx proved that Water can be dangerous, and with the Blizzard looking like something special, maybe Water finally can be used by Sora!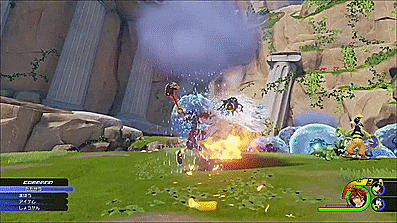 Spell 2: Aero!
Aero! I'm so excited for this one! Never using it before Kingdom Hearts 1.5, I never realised how amazing this spell is in it's protection and damage abilities. I was so excited when it was shown in the Kingdom Hearts 3 trailer.... and then I saw what it does and I questioned if it was Aero. It seemed more like a mini-tornado attack. So I guess...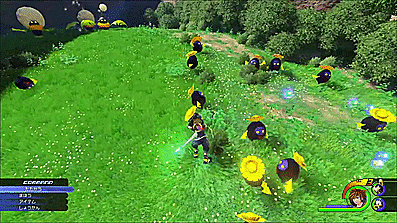 The Real Spell 2 Guess: Tornado!
If it indeed even is Tornado! I mean, it certainly looks like it further on in the trailer. For what I believe is the first time, Tornado is available as a basic spell and not just a powerful attack used which you have to control yourself. The spinning above shows air travel around Sora, which ends in a lightning flourish. You can see the lightning in the gif below as well.
What I really like about this spell, and indeed every other spell now, is it's effect on the environment. The air makes the grass move, which is just a nice touch of realism that I never realised the games needed but I'm glad someone at Square Enix thought of!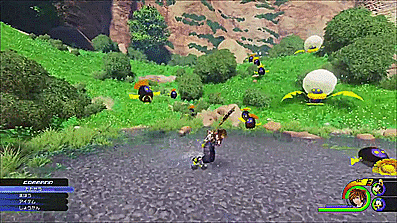 Spell 3: Blizzard
The main reason why I made this topic is because of Blizzard. Thankfully it made me reflect on the spells above so I could extend this and note some things about the magic evolution. But while I love the grass movement and the Fire flying through the air, nothing impressed me more than how connected Blizzard has become to Flow Motion.
I'm sure that many of you noticed this, however there will be a few who are still overwhelmed by the sheer amount of things to look at in this trailer, that Sora casts a Blizzard spell, which is in itself just gorgeous, but then proceeds to slide along it like a grind rail in [Dream Drop Distance] and launch into the air. This type of Flow Motion has been seen in [Dream Drop Distance] where you slide down a rail, press B, and launch into the air, but it has not been useable with a magic spell before!
And what about the left over Blizzard on the ground? Will it trip enemies over and cause damage? Will it expand like Elsa's power (now I'm actually excited for a potential Frozen world) and freeze enemies? The possibilties with magic are endless and I love it.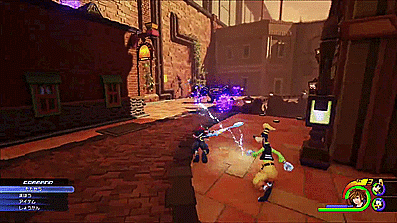 What do you love about the evolution of magic in Kingdom Hearts? Are there any spells you'd like to see or not see come back? And if so, what kind of advancements do you hope to see which would connect with gameplay or interact with the world?