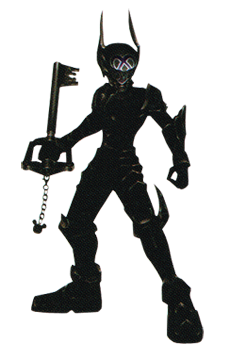 First Appearance: KINGDOM HEARTS 3D [Dream Drop Distance] (2012)
At the end of Sora's Mark of Mastery exam, Sora's heart gives way to the shadowy plot of Xehanort and his other selves. As Sora seeks into the abyss of his own Darkness, a fragment of Ventus's wounded heart flies to his aid and encases Sora in his own armor.
Tainted still by the Darkness Xehanort entrapped him with, Sora's heart sleeps deep in the shadows, and the lingering spirit of Ven's armor is on the offense as Riku dives into Sora's heart in an attempt to set him free.
Riku shatters the tained armor, and uses Sora's Keyblade, the one that had originally been bequeathed to Riku, in order to wake Sora from his slumber.
Afterwards, in Castle Oblivion, Ven's sleeping body smiles - knowing Sora is safe.