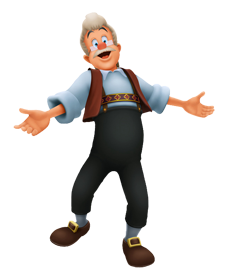 First Appearance: KINGDOM HEARTS (2002)
Origin: Pinocchio (1940)
Japanese Voice Actor: Kazuo Kumakura
English Voice Actor: Jeff Bennett
The dream version of the kind and fatherly clockmaker.
Geppetto owns a small clockshop in a sleepy village, and one night decides to carve a little puppet out of wood and names him Pinocchio.
Geppetto's dream was to become a father, and the Blue Fairy - hearing his wish and knowing how true Geppetto's heart is, uses her magic to bring Pinocchio to life. When Geppetto's world fell to darkness, it dreamt up a new version of Geppetto while the real one was in the outside world.
This Geppetto is virtually identical to the real one, and is desperate to keep his son safe. When Pinocchio vanishes, Geppetto sails off in search of him only to be swallowed by Monstro. There he is reunited with his son, only to be separated by him again. Thankfully, Riku shows up and is determined to set things right.
Geppetto and Pinocchio are reunited, and Riku and Sora release their world from its unending dream, where the Geppetto and now human Pinocchio await their chance to return home.