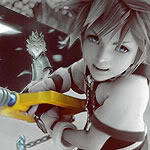 Hey everyone, quite a bit today!

First of all, Kingdom Hearts 2:FM+ has received a rating of A for All Ages in Japan. This is a little old, but thought I'd mention it.

Next, a Belgian TV Channel got the chance to show off four of Square Enix's "Closed Theater" Trailers, that have been shown at places like Jump Festa. There was FFXIII, It's A Wonderful World, and Kingdom Hearts 2:FM+! Sadly, the KH Trailer has not made its way on the internet yet, but here is to ...