《SB++》Marionette
《SB++》マリオネット
[JP Date Added] Enemy Draw: 12/23/2019 - 12/31/2019
[ENG Date Added] KH III Darkness Deal: 12/23/2019 - 12/31/2019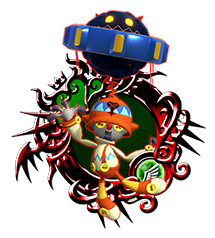 SB+ Base ATK/DEF
: 27981 /

13432
SB+ Max ATK/DEF
:

30000

/

16503
1 Target / 3 SP cost

Ability: TBD+6
Copies the ability ofthe medal set 3 slots later. Fails if none exists in that position.

Base Multiplier: x 9.53
Max Multiplier: x 9.53
GUILT Max: x 40.03

Guilt: 320%

Special: Players can activate AOE "Super Burst" function to inflict Reverse Speed damage that's more effective against standalone targets. While defending in PVP, Super Burst will activate before the 3rd slot.

[Attribute Advantage] For 1 turn: Increases Reverse Medal ATK+5000, Speed ATK+15 and Guilt+280%, decreases enemy Speed DEF-15.
SB+ Multiplier
: x 220.00
---
[Trait Medal #169]
Fuse with 《SB++》Marionette to roll 1 trait and fill 1 ability slot.