《SB》KHIII Saix
《SB》KHIII サイクス
KINGDOM HEARTS III (2019)
A member of the real Organization XIII who was once defeated by Sora.
[JP Date Added] KHIII Special Draw: 6/14/2019
[ENG Date Added] SN - KH III Saix Falling Price Deal: 6/14/2019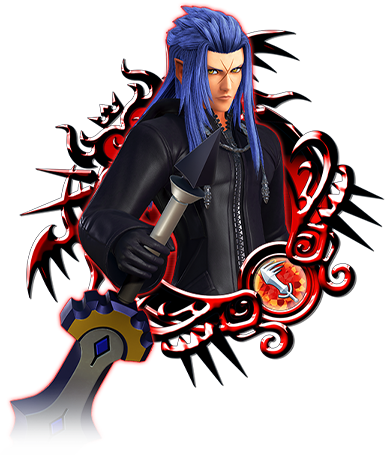 Base ATK/DEF

: 12733 / 9034


Max ATK/DEF:

TBD

SB+ Base ATK/DEF:

TBD


SB+ Max ATK/DEF

: 22050 / 16173

Random Target(s) / 4 SP cost

Ability: Dark Linemark+6
For 2 attacks: Increases Reverse ATK+15, ATK+15, Power ATK+15 and Guilt+170%, decreases enemy Reverse DEF-15, DEF-15 and Power DEF-15. Consumes all gauges regardless of skill, inflicts 10 hits that deal more damage the more gauges have been used

Base Multiplier: x 14.97 - 16.24
Max Multiplier: x 14.97 - 16.24
GUILT Max: x 56.89 - 61.72

Guilt: 200 - 280%

Special: Players can activate AOE "Super Burst" function to inflict Reverse Power damage that's more effective against standalone targets. While defending in PVP, Super Burst will activate before the 6th slot.

For 2 attacks: increases Guilt+250% (300% if SB+).

SB Multiplier

: x

160.00

SB+ Multiplier

: x 200.00

---

[Trait Medal #121]
Fuse with 《SB》KHIII Saix to roll 1 trait and fill 1 ability slot.