《SB+》Invi
《SB+》インヴィ
KINGDOM HEARTS χ BC (2017)
The Union leader of Anguis. She's tasked by the Master to monitor the other foretellers.
[JP Date Added] Anniversary Draw: 9/1/2019
[ENG Date Added] The Foretellers Deal: 9/1/2019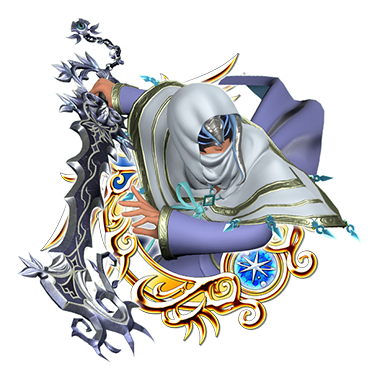 SB+ Base ATK/DEF
:

27300 / 13327
SB+ Max ATK/DEF
: 30269 / 16280
All Targets / 0 SP cost

Ability: Serpent Illusion revised+6
For 1 turn: Increases Magic Medal ATK+1500, Upright / General / PSM ATK+12 and Guilt+200%, decreases enemy Upright, General and PSM DEF-12. Doesn't affect counters, recovers 3 SP, inflicts 4 hits that deal more damage against standalone targets

Base Multiplier: x 13.64 - 15.14
Max Multiplier: x 13.64 - 15.14
GUILT Max: x 57.29 - 63.59

Guilt: 320%

Special: Players can activate AOE "Super Burst" function to inflict Upright Magic damage that's more effective against standalone targets. While defending in PVP, Super Burst will activate before the 3rd slot.

For 1 turn: Increases Guilt+280%, doesn't effect counters, recovers a large amount of HP, recovers 10 SP
SB+ Multiplier
: x 220.00
---
[Trait Medal #140]
Fuse with 《SB+》Invi to roll 1 trait and fill 1 ability slot.