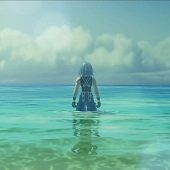 Be Wiser Than the Serpent
Joined

Nov 4, 2012
Messages

3,769
Awards

37
Roxas x Namine stopped being a thing after Xion was introduced.

Riku x Namine feels more like another jab to FF15 from Nomura because they look like Noctis x Luna. I'm curious to see how further he will go with this.
Oh, I see the connection now. I hope this doesn't continue beyond KH3. Screw Nomura if he takes a fantastic character like Riku and dumps his XV bitterness onto him.