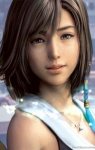 ~ ♥~ Grand Summoner~ ♥~
Joined

Jan 3, 2006
Messages

7,400
Awards

4
Location
This has been bugging me for a while now, and for the life of me I don't get it, and I apologize if this has already been said. A lot of people seem to have this obsession with having their favorite game remade. You get videos, blogs, posts and the like demanding that their Final Fantasy should be getting a remake already. I fully admit to being guilty, too, though not to the extent of threatening the team if my favorite Final Fantasy game doesn't get remade.

Still, as much as I would love to see it remade, I would rather the team focus on a new game rather then divert all their resources into recreating yet another version of a game that's already come out. The entire Final Fantasy X + Final Fantasy X-2 HD Remaster already has fanboys and fangirls howling with rage that it was X and not their favorite. And then apparently (not saying this is a fact, but something I read) that if the Remaster is successful, there could be a chance of a Final Fantasy XII remaster as well.

Of course, this brings up more people howling that it should be another Final Fantasy, but for the sake of argument I may as well agree seeing as Final Fantasy XII is relatively recent. I can even go as far as admitting I would have preferred to see pretty much any other Final Fantasy be remade besides X, as bringing them up to date would not only be wonderful but using today's graphics technology would be incredible to see for games such as VI and VIII, but overall I have to ask, what is the point?

By that I mean I feel like these remakes and remasters are relatively just not needed right now. Sure, celebrating an anniversary by rereleasing an old game may seem like a good idea, but really, why is it that everyone insists on the next Final Fantasy project to be a remake of Final Fantasy VII, or a demand that VI comes to the 3D era, or that IX deserves some attention? And don't get me wrong, I have original copies of most Final Fantasy games and I have bought their rereleases on PSN and the handheld remakes as well, so it's not like I wouldn't buy them. It's just that I see these things as, well, a waste of time. Sure you can spiff them up and make them look pretty, but then you get complaints about things changing and 'why wasn't it a complete remake' and so on and so forth, and I admit this is my BIGGEST issue with the Kingdom Hearts 1.5 and 2.5 (although these two I admit are a complete waste but this topic I want to focus on the Final Fantasy Series).

I'd like to know your opinion, and I want to see what exactly drives you to want to see your game either remade or remaster (remember, these are two COMPLETELY DIFFERENT things!)?