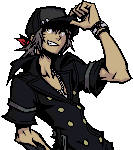 Joined

Mar 29, 2007
Messages

3,003
Awards

5
Well I walked up to my Health teacher today and told her a little issue I was having.
A couple of months ago I fell down the stairs and sort of scoffed my arm.
It was by no means a large wound, it's the size of a dime and bled for about an hour, nothing serious at all.

Anyways, that was a couple of months ago. It has still not healed.
My girlfriend has always told me I have "Low blood pressure". I am very pale, always cold, and there is not a second in the day I don't feel tired.

When I presented these "Symptoms" to my teacher, she told me she thinks I have Anemia.
I thought it wasn't too far fetched, my Mother has it after all.
When I went home and told my Mother my "Symptoms", she nodded and said;
"Yeah, you might have Anemia, but it sounds more like Diabetes to me."
...Great.

All I can really do is post what symptoms I have that the internet tells me I should look out for.
Maybe someone that has these diseases can help me out, tell me if I am just worrying over nothing.

Anyways, here is the list;
Anemia
Fatigue
Shortness of breath
Lightheadidness
Palpitations
Paleness
Low Blood Pressure
Pale/cold skin

Diabetes
Frequent urination
Unusual thirst
Extreme fatigue and Irritability
Cuts/bruises that are slow to heal
Tingling/numbness in the hands/feet

I know that seeing these symptoms can cause me to overreact, but to my best knowledge, all of these symptoms happen on a regular basis, some are multiple times a day.

Any help would be great.