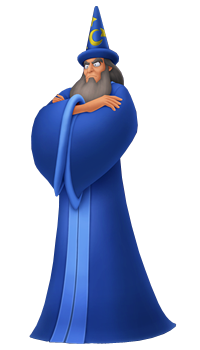 KINGDOM HEARTS Birth by Sleep
First Appearance: KINGDOM HEARTS II (2006)
Origin: The Sorcerer's Apprentice (1940)
Japanese Voice Actor: Takashi Inagaki
English Voice Actor: Corey Burton
A wise and powerful sorcerer who taught Mickey all he knew about the Keyblade and magic. He is himself a former Keyblade Master, but still monitors closely the balance between Light and Darkness. The day before Aqua and Terra's Mark of Mastery exam, Yen Sid confides in his apprentice - King Mickey - that he feels a dreadful occurence will transpire. After the completion of the exam the following morning, Yen sid contacts Master Eraqus and informs him of the Unversed threat.
Soon after, Terra visits Yen Sid's Mysterious Tower, seeking the wise man's guidance about the Unversed, Vanitas and Master Xehanort, who suggests they may all be part of the same problem. As Terra leaves, he quietly comments to himself "I had hoped, Xehanort, that your heart would no longer lead you astray."
When Ven returns with the King's Star Shard, Yen Sid divines Mickey's location, offering a brief vision into his current situation, the severity of which sees Ven quickly departing to assist. Later, Aqua returns Mickey to the castle, soon learning of Master Eraqus' destruction at the hands of Terra and Master Xehanort. After Aqua's departure, Mickey is able to recover and also heads for the Keyblade Graveyard to assist Aqua and her friends.
Following the defeat of Vanitas, Mickey returns to the Mysterious Tower with Aqua and an comatose Ven in tow. Yen Sid tries but is unable to sense Ven's heart, encouraging Aqua to believe in the strength of their friendship, which would serve to return him fully one day. Later, a sorrowful Mickey, feeling he has failed his mission, his friends and his master, returns the Star Shard and Keyblade to Yen Sid. As Mickey is about to depart, Yen Sid returns the Keyblade to him, confirming that Mickey had, in fact, passed his own test and become a Master.