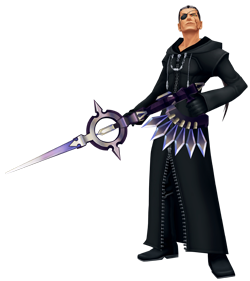 KINGDOM HEARTS 3D [Dream Drop Distance]
First Appearance: KINGDOM HEARTS II (2006)
Japanese Voice Actor: Hochu Otsuka
English Voice Actor: James Patrick Stuart
Xigbar ranked as Organization XIII's number II, and when he was still human, was one of Ansem the Wise's six apprentices. He was Xehanort's biggest co-conspirator, helping him corrupt Terra with darkness and ultimately take over his body. Xigbar was defeated by Sora in The World That Never Was and has since been reborn as the original being, but having long since abandoned his name and past life, the only entity that exists is "Xigbar."
The freeshooter greeted Sora with a surprise visit the instant he arrived in The World That Never Was, taunting him with the knowledge that they had planned everything from the start; what he'd do, which worlds he'd go. They had always been watching him in some way, shape or form, guiding him wherever they wanted him to go. Sora won't be able to return home ever; he'll be trapped, forced to play the role as their puppet. Remaining defiant and headstrong, Sora refused to submit to their plans without a fight. Unfortunately for him, Xigbar would not be his opponent and he departed, leaving the Keyblade wielder with a familiar face, the silver-haired man he had met several times through his journey: young Master Xehanort.
Xigbar returned when Sora had almost fallen into the deepest abyss, laughing at how they had sent him deeper and deeper into the dreams and almost woke him up in the process, and about how great hearts are for steering them in the wrong direction, just as Sora's did to bring him to this point. As Sora chased the dreams, he realized that Nobodies did have a heart, and in response, Xigbar just mocked him for being so slow to notice. In perfect timing, Xemnas joined the party and together he and Xigbar revealed that the ultimate goal of Organization XIII was to connect all the members to Kingdom Hearts and fill them with the same heart and mind, turning them into 13 copies of Xehanort, of which Xigbar was already half of! Sora was enraged that they would dare talk like that, fooling their comrades for personal gain when it's the connections with others that make a person strong. Taken aback, Xigbar left Xemnas to deal with Sora, and retreated in his rage.
Gathered with the other seekers of darkness as they awaited the arrival of Master Xehanort, Xigbar watched Riku and Mickey's futile effort to protect Sora from falling to darkness, smiling with glee as they would finally accomplish their goals since they came together over a decade before. What he didn't expect was that Lea had joined their side, and realizing that the tide had turned, he angrily confronted Xehanort, demanding to know what they would do. With the time run out, they had no choice but to depart and reconvene later.