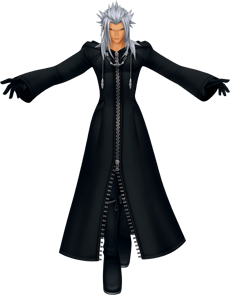 KINGDOM HEARTS 3D [Dream Drop Distance]
First Appearance: KINGDOM HEARTS (2002)
Japanese Voice Actor: Norio Wakamoto
English Voice Actor: Paul St. Peter
The Nobody of Apprentice Xehanort, Xemnas was the former leader of Organization XIII, ranked number I. He has complete control over the powers of Nothing, and wields dual Ethereal Blades, blazing red and humming with energy. His goal was to utilize the hearts Sora was releasing whenever he defeated a Heartless and gather them together to create his very own Kingdom Hearts, with which to grant him powers beyond any have ever seen. The rest of the Organization seems to have been under the assumption that Kingdom Hearts would give them new hearts to become whole again, but that doesn't seem to be the case.
Xemnas appeared to Sora alongside the mysterious silver-haired man in Prankster's Paradise, taunting Sora and mocking Pinocchio as a hollow puppet who's managed to grow a heart. Sora doesn't understand how he can criticize when it's completely possible for them to grow hearts as well, just like Pinocchio, but Xemnas just laughed at how the young wielder alienates Nobodies when they are not so different from himself.
He visited Sora once more in The Grid, explaining that memories and hearts are tightly linked together. Memories create feelings, and although that is the case in the world of the living, it's not necessarily the same in the digital realm. You can have as much information as your memory can contain, but no feelings can ever be born from them, and thus, no heart. He stated that this world was the original of Space Paranoids; Ansem the Wise had discovered it long ago and made a copy to serve his own computer. And in this world, things like memories can be easily manipulated to serve the needs of the master. Although Sora was already distraught over Rinzler, Xemnas mocks him, or Tron rather, as being an entity of The Grid, he must obey the laws the world follows and thus, has no reason to remember Sora. But in fact, is it only just Tron? Again, is Sora really all that different? Perhaps his memories, dreams, data, even his very heart are just duplicates of another? The boy stubborn insisted otherwise, but to be honest, how can he really be sure?
By the time the two had met again, Sora had dove deep into the depths of his dreams, although he didn't realize it. Xemnas took advantage of that fact and taunted him, revealing the knowledge that he had been entirely aware that hearts can be reborn and had chosen to hide it from the other members of the Organization. The reason for this? The 13 members of Organization XIII, empty shells left behind when original beings lost their hearts to darkness; by connecting them to Kingdom Hearts, Xemnas and Xehanort would be able to fill them with the exact matter, the same heart and mind, all in order to turn every single one of them into Xehanort. Although that plan had failed, they learned enough to continue onwards on another path. Although Sora passionately disagreed and fought to prove that it's the connections with other people that made him strong, not even he could come out victorious this time. He dove too far into his dreams, and could not return from the abyss. With him filling up the remaining slot among the seekers of darkness, there was nothing left to do but wait.
However, no plans could go that accordingly, no matter how far in advance Xehanort had planned it. Riku and Mickey burst into the Round Room to rescue Sora, but they were rendered useless by Ansem Seeker of Darkness and Xemnas. When it seemed all hope was lost, Xemnas was astonished to find Lea saving Sora from becoming their final vessel. Now that their time had run out, the 12 Xehanorts who had gathered together had no choice to return to their origins, at least until next time.