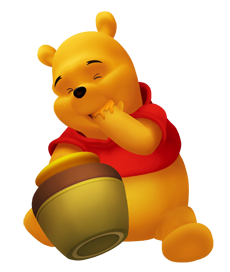 KINGDOM HEARTS II
First Appearance: KINGDOM HEARTS (2002)
Origin: Winnie the Pooh and the Honey Tree (1966)
Japanese Voice Actor: Sukekiyo Kameyama
English Voice Actor: Jim Cummings
A honey loving bear that lives in the 100 Acre Woods. He has a morning routine of performing stoutness exercises in order to improve his appetite.
Sora met Pooh in his first journey, when Pooh's book was ravaged by the Heartless. By gathering the torn pages, Sora brought back Pooh's friends, and ended up being the bear's friend himself. It is hardly a happy reunion the two can enjoy once they meet again, however, as due to Sora's carelessness, the Heartless stole pages from the book once again, and this time, Pooh's Memories along with them.
Thankfully, each page Sora finds restores a bit of Pooh's Memories, but it seems Sora himself is the last Pooh's able to remember. He does eventually, however, and makes a promise to Sora. As Sora can't help but leaving, Pooh'll be more careful this time, and keep Memories of Sora safely in his Heart. That way, the two can be together, even when far apart.