KINGDOM HEARTS III
First Appearance: KINGDOM HEARTS II (2006)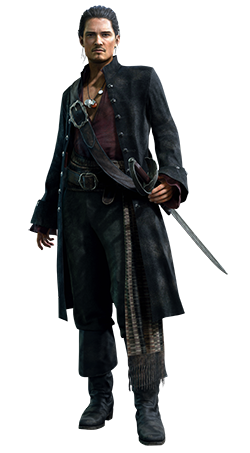 Origin: Pirates of the Carribean: The Curse of the Black Pearl (2003)
Japanese Voice Actor: Daisuke Hirakawa
English Voice Actor: TBA
A former blacksmith, Will Turner's life changed when he met Captain Jack Sparrow and embarked on a journey to rescue Elizabeth Swann from the hands of Captain Hector Barbossa. He is the son of Bootstrap Bill Turner, who is a member of Davy Jones' crew on the Flying Dutchman.
Will was set to marry Elizabeth Swann, however the nuptuals were interrupted by Lord Cutler Beckett, who arrests both Will and Elizabeth. Beckett to free Elizabeth if Will steals Jack Sparrow's compass.
Will finds Jack on an island inhabited by cannibals, and the two make a daring escape back to the Black Peal. They take the ship to the voodoo priestess Tia Dalma, who reveals that the weakness of Davy Jones' is his heart, and his heart currently resides in the Dead Man's Chest.
Will is tricked by Jack into going onto the Flying Dutchman and becoming a member of its crew. It is there that he meets his father, and learns that the key to the Dead Man's Chest resides around Davy Jones' neck.
Will makes a daring escape with the key, and makes his way to Isla Cruces, where the chest is buried. It is there he encounters Jack Sparrow and Commodore James Norrington, and the three fight over the key. Norrington escapes with the heart and Davy Jones, who followed the crew, sends his Kracken to take down Jack Sparrow and the Black Pearl, and the two are sent to Davy Jones' Locker.
Will joins Elizabeth, Gibbs, Barbossa, Tia Dalma, and the rest of the Black Pearl crew on the journey into Davy Jones' locker to bring Jack Sparrow, Sora, Donald, and Goofy back to the world of the living.